Whenever your customers have that "wow" moment during a delicious meal, your brand's colors and logo should be front and center to accompany it. Now you can create those moments consistently with your own custom printed food bowls! The white exterior of these disposable paper bowls will accentuate your artwork and highlight the unique spirit and polished professionalism of your business. They're also perfect for hot or cold foods, making them a versatile and convenient alternative to plastic bowls.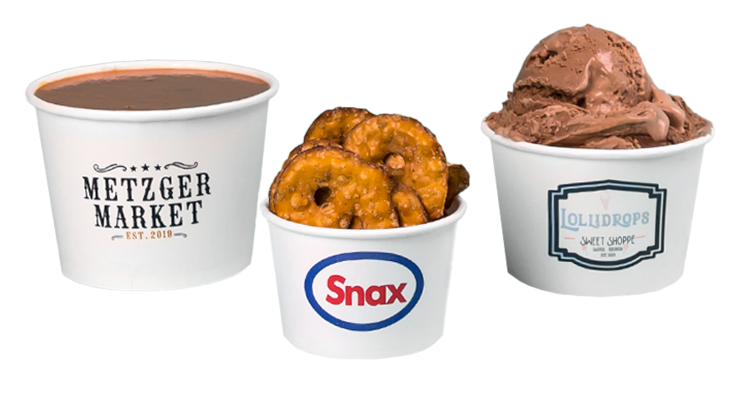 Custom Printed Disposable Bowls
Our disposable bowls are designed using direct printing, allowing you to create three-color imprints of any company logos or imagery you want to be brought to life. Made of double poly-lined paper, these disposable bowls are durable and leak-resistant, and our selection of matching lids will fit securely to ensure the contents stay fresh. Order as little as one case of your own customized disposable bowls today!
Because we serve such a diverse customer base – from someone opening their very first coffee shop to an experienced team operating a chain of restaurants – we have prioritized making our services as versatile as possible. While we pride ourselves on our low order minimums, we also offer large volume printing to help those in need of much higher order quantities.
For our customers, large volume printing consists of any custom printed cup or sleeve orders that total thirty cases per product and size. Typically, large quantity custom printed orders will be produced and shipped to you within 10 – 12 weeks and require a 50% deposit at the time of order. Along with discounts that come with large volume printing, there are also distinct design advantages to consider. Most notably, large volume orders allow you to explore unique design options such as full color printing and full wrap artwork that covers the entirety of your bowls. These perks can help you create disposable tableware that captures everyone's attention and leaves an unforgettable impression.
For more information on large volume printing and how it may work for your business, visit the large volume page under the resources tab!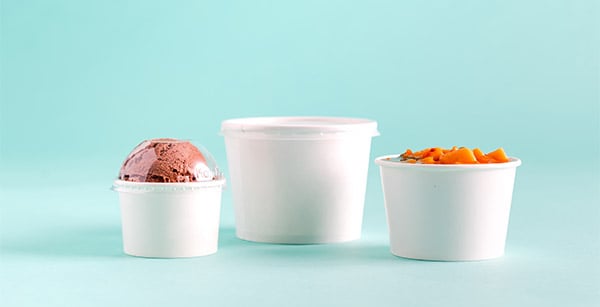 Paper Bowls for Hot & Cold Food
Even without custom printed graphics, our paper food bowls offer a fantastic method for serving your best meals. Whether you're serving hot soup, salad, or cold desserts, every bowl will comfortably contain any liquids, prevent leaks and spills, and ensure you don't have to worry about cleanup afterwards. With their paper design, they're also perfect for recycling, making them great for reducing environmental waste.
They're fantastic for any number of functions, from camping and picnics to large events or even a company party. They are also especially useful for your carryout orders! Combined with our available food bowl lids, our disposable bowls will help you deliver meals like soup neatly and safely to every takeout customer.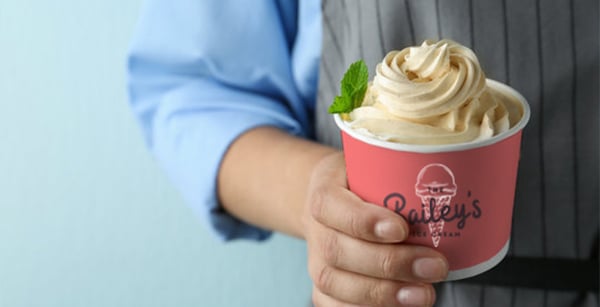 Large Volume Custom Dessert Cups
At Your Brand Cafe, we offer full-color, full-wrap printing capabilities on our large volume custom food and dessert cups, which allows you to customize your cups with any design or branding you desire. Our cups also feature a poly-lined interior, which can easily hold any type of hot food or dessert without leaking, and tightly rolled rims that secure our matching lids for safe and enjoyable eating. Additionally, the smooth exterior provides insulation against colder temperatures, making them ideal custom paper ice cream cups.
Frequently Asked Questions:
Will paper bowls hold soup?
Paper bowls are great for holding soup. With double poly lined paper, they offer excellent insulation and prevent leaks and spills through the bottom of the bowl, helping people enjoy a clean and tidy meal.
Will paper bowls hold soup?
Paper bowls are great for holding soup. With double poly lined paper, they offer excellent insulation and prevent leaks and spills through the bottom of the bowl, helping people enjoy a clean and tidy meal.
Are styrofoam bowls good for soup?
Styrofoam soups work well for soup, but there are environmental concerns with using styrofoam bowls or styrofoam packaging. Not only does the material take a long period of time to break down, it can often leach harmful byproducts when it does. As an alternative, paper bowls are far better for the environment and great at containing soup and other hot foods.
What is the best material for soup bowls?
Poly lined paper bowls offer the best combination of eco-friendly materials and reliability. Not only are they safer for the environment after being thrown out, they also offer much better insulation than plastic bowls.
Are disposable bowls microwave safe?
Yes, disposable paper bowls are microwave safe. Along with being microwave safe, they are also safe for refrigerator storage, which helps patrons save their meals for later after dining in or ordering takeout.
How long does it take for paper bowls to decompose?
Disposable paper bowls take no more than a few months to decompose. Keep in mind, this also depends upon the method in which they are thrown away. They are also safely recyclable, helping them be repurposed for later usage.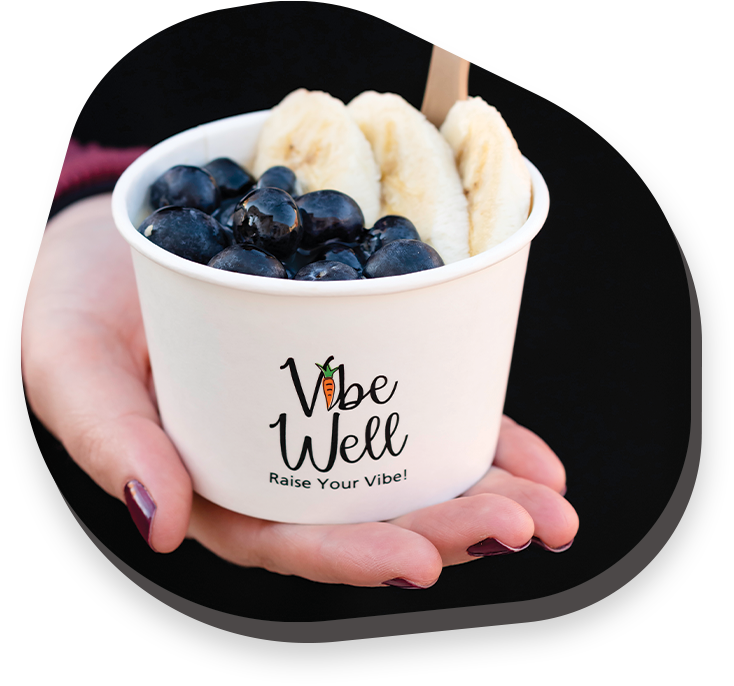 One dollar from every case of custom printed disposable cups and bowls you buy, as well as five dollars from every case of seasonal designs, is donated directly to charity:water to support clean water projects around the world.