CLEAN WATER CHANGES EVERYTHING

The simplicity of acquiring clean water in the United States can easily be taken for granted. For millions of people around the world, access to clean water is nowhere near as simple as just turning on a faucet. In many nations, entire communities lack access to basic water services. Women and children may walk miles every day to gather water, a struggle that keeps children away from an education and prevents parents from earning an income to provide for their families.
This issue struck a chord with us, so we decided to lend a hand to those tackling these problems by donating a portion of sales to clean water projects around the world. Whether it be a piped system, a well, or a system for collecting rainwater, charity:water creates opportunities for people in these regions to support their families and attain a higher quality of life.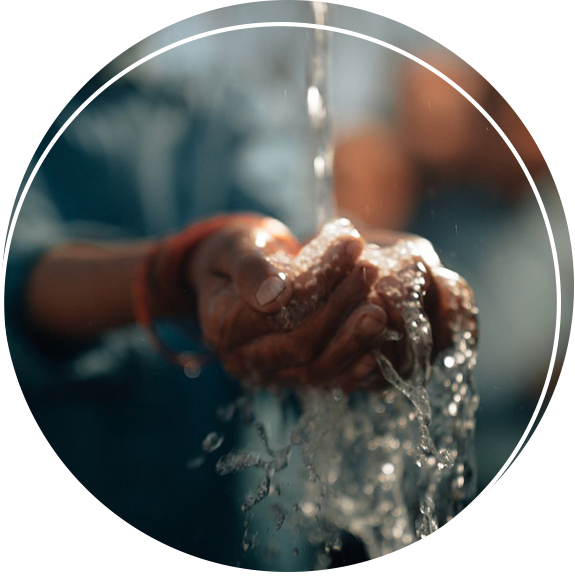 One dollar of every case of custom printed disposable cups and bowls and five dollars of every case of seasonal designs you buy, Your Brand Cafe donates directly to charity:water to support clean water projects around the world.
HOW YOU HELPED YOUR BRAND CAFE SUPPORT CLEAN WATER PROJECTS AROUND THE WORLD
Since 2019, we've supported water projects in Ethiopia, Malawi, Nepal, & Mozambique. Ethiopia – Well with a Handpump

In 2019, we connected with Charity:water to make our first donation to a water project. This first water project was a well with a hand pump in Ethiopia. We were excited to be able to help provide clean water to this community.
Malawi – Well with a Handpump

A new water well project has been announced! With your help, we will be donating to an upcoming project in Malawi, a country in southeastern Africa. Remember: every purchase of custom printed disposable cups & bowls goes towards these projects! Ethiopia – Well with a Handpump
Completed
The construction of the community well in Ethiopia has been completed! Thanks in part to your business with Your Brand Cafe, this hand pump water well will help serve communities in the Tigray region of Ethiopia. We will let you know when details have become finalized!
Malawi – Well with a Handpump
Update

Good news everyone: the work on the Malawi water well is underway! Partners with Charity:water have begun gathering the necessary permits, materials, and connections needed to make this project a reality. Stay tuned for updates! Malawi – Well with a Handpump
Update

Construction of the Malawi project is nearing completion! Most of the water points and latrine blocks have been finished, which will eventually provide a region of over 50,000 people with consistent access to clean water. A final completion report is expected by the end of 2022! Thanks again to all of our customers for their contributions!
New! We are working on three new water projects.

We're excited to announce that our next donation will be split amongst three different water projects in Africa and Asia!
One project is a piped tap stand in Nepal, one of the most mountainous regions in the world. Another project features the building of hand pump water wells in Mozambique. And for our third project donation, we're contributing to another piped tap stand, this one being located on the island of Madagascar.
None of these life-changing projects are possible without your business with Your Brand Cafe. Thank you again for doing your part in pursuit of an important cause! Malawi – Well with a Handpump
Completed

The Malawi project has been completed!
Two separate communities in Malawi – which are home to over 600 people – now have access to their own clean water wells. In total, our contributions were included in the $1.3 million donated to Water For People Malawi, which completed over 200 water projects that service nearly 60,000 people.
We're so thankful for your business and for your help in these life-changing efforts. More exciting updates are on the way in 2023!
Our clean water project in Nepal is underway! With the help of Helvetas Nepal, charity:water is building piped system tap stands to draw water from inaccessible regions within this mountainous country. These interconnected pipelines use gravity, electricity, solar power, or a combination of all three to bring water to the distribution points. Not only are community members involved in planning, construction, and rehabilitation of this clean water project, they're also educated on topics like safe water storage and improved hygiene practices.
When completed, this water source will give almost 400 people access to clean water. Thank you so much for your continued support!