If your brand is concerned with environmental issues, you shouldn't just talk about it; you should be about it. If you're looking for an alternative to standard plastic disposable cups, then check out our line of custom eco friendly cups!
Our selection of custom compostable cups sports the same crystal clear design of our standard PET cold cups. The difference is found in the PLA plastic, which is made from a renewable resource like corn starch or sugar cane. Now, not only can you reduce your carbon footprint, you can actually give back to the planet in the process!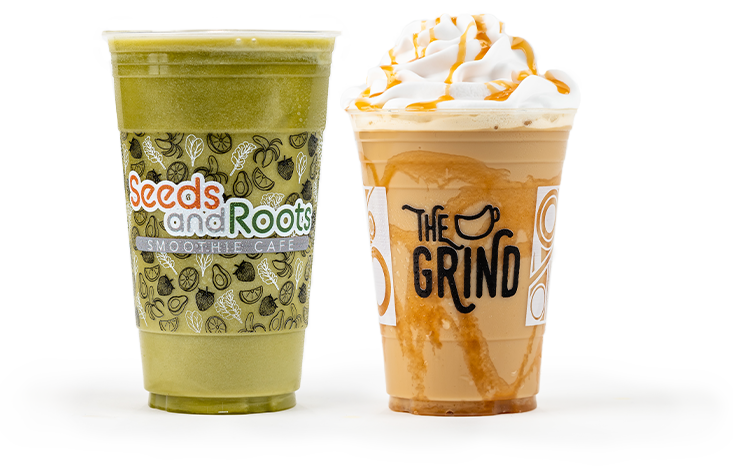 We're proud to offer three different printing options for custom compostable cups that have benefits and capabilities to fit any budget or business needs! From Standard to Premium, you can get anywhere from one color prints to fantastic full color, full wrap designs. With more design options, increased pricing flexibility, improved turnaround times, and a variety of sizes, you can create and buy amazing custom eco friendly cups that perfectly fit your business needs. Get started on creating your own custom compostable cups today!
One Case Minimum

Free Shipping

*

Rush Production Available

Unlimited Ink Colors

Full Wrap Printing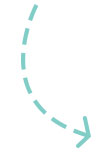 Print Type

Standard

Standard Plus

Premium

One Case Minimum

X

X

X

Free Shipping

*

X

X

X

Rush Production Available

X

Unlimited Ink Colors

X

Full Wrap Printing

X

Custom Printed Cold Compostable Cups
Custom Eco Friendly Cups
Just like their PET plastic cousins, PLA plastic cups have an exterior that is perfect for custom printing, making it easy to show off your logo on each custom eco friendly cup and feature your brand's colors in bold detail! Best of all, you can order a variety of sizes in as little as one case of your custom eco friendly cups, helping you save storage space and limit your overall expenses.
Printed Compostable Cups
Are you looking for a way to stand out and stay environmentally conscious? Look no further than our printed compostable cups! We are thrilled to offer three different printing options to fit any budget or business need. Choose from Standard to Premium printing and personalize your cups with unique designs that range from one color to full wrap. Not only will your customers appreciate the effort to be eco-friendly, but you'll also have an excellent marketing tool to promote your brand. Don't wait, start creating your own printed compostable cups today!
Remember: these cups are not biodegradable and must be sent to a commercial composting facility after usage! For any questions regarding the usage and disposal of compostable cups, please contact us via email or call one of our trusted customer service representatives.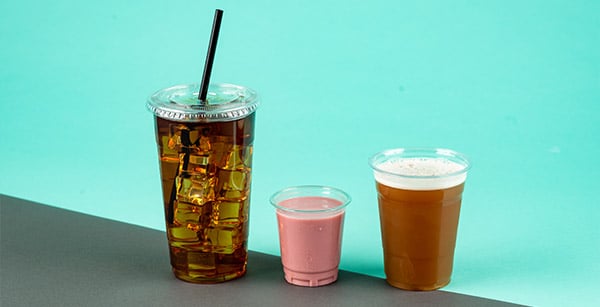 These blank compostable cups are made from a durable, corn-based PLA plastic that is compostable after usage. They are also compatible with our dome lids and flat lids, which are made of the same bio-based materials. To top it all off, these compostable cold cups are freezer-safe and allergen-free, making them perfectly safe for your business, your customers, and the environment. They're ideal for serving anything from beer and soda to iced coffee and tea!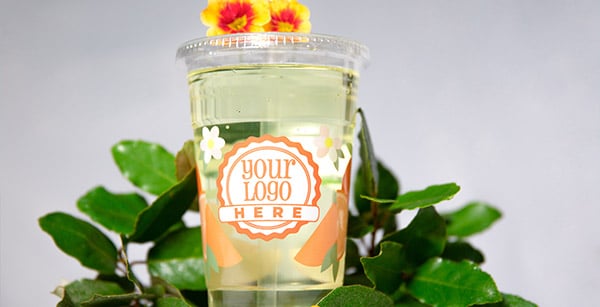 Looking for a way to celebrate the seasons while also being eco-friendly? Your Brand Cafe has got you covered with our selection of holiday compostable cups! These compostable cups are made from environmentally friendly material, and they can be customized with full wrap holiday designs. You can choose from a selection of predesigned spring, summer, fall, and winter motifs, and each one is perfect for celebrating the season. Best of all, for every case sold Your Brand Cafe donates $5 directly to charity:water. So not only will your guests be impressed with your branded clear plastic cups, but you'll also be helping to provide clean water to people in need. Click here to view all holiday design offerings available on our custom compostable cups!
Frequently Asked Questions:
What are clear cups called?
Clear plastic cups are most commonly made from PET plastic. PET, or polyethylene terephthalate, is a clear, strong plastic that is widely used for food packaging and household containers. It is safe for use with food and beverage products, and it can be easily recycled. Clear plastic cups made from PET plastic are typically clear and transparent, with a smooth surface that makes them easy to clean. They are also relatively lightweight and shatter-resistant, making them ideal for use in a variety of settings.
What are eco clear cups made from?
Our eco friendly plastic cups are made from PLA plastic, which is an acronym for polylactic acid. PLA consists of renewable materials like corn starch and sugar cane.
Is PLA plastic recyclable?
No, PLA is not a recyclable material. Because PLA is made from renewable resources, our eco friendly cups should be disposed of via composting. Recycling compostable materials can be harmful, so either send them to composting facilities or throw them away in normal trash containers.
Do you recycle compostable cups?
While it may be tempting to recycle compostable cups like other plastic cups, it is important that you do not recycle PLA plastic cups. They are strictly compostable and should be disposed of via a commercial composting facility where the plastics can break down more efficiently.
Are compostable plastic cups really compostable?
Yes, compostable cups are genuinely compostable, but only in commercial composting facilities. Compost piles created at home or found in the community are not efficient at breaking down the PLA plastics in these eco cups and will result in additional waste.
Are compostable cups good for the environment?
Yes. Unlike other disposable cup materials, compostable cups actually support plant life when composted properly. This means that rather than simply not harming the environment, compostable materials can actually be good for it.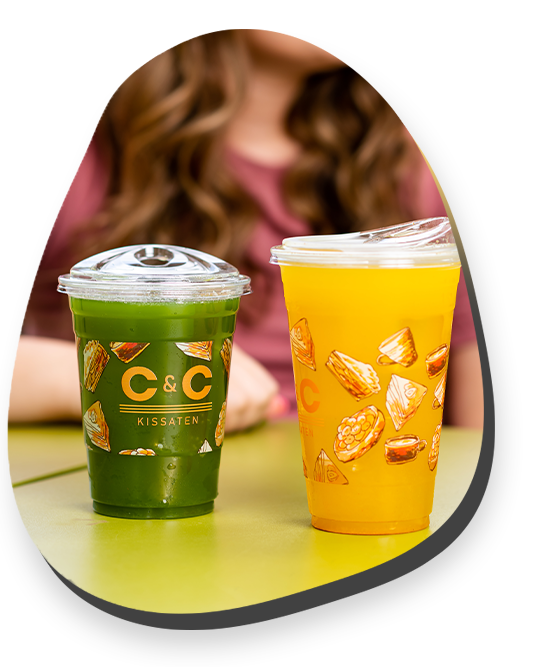 Telling a Compelling Brand Story Through Social Media Captions
Being able to tell a compelling brand story through social media captions is an art that boosts your engagement. These tips will help you target your ideal customer when they scroll on social media. The art of storytelling is an intrinsic part of humanity. We tell…
One dollar from every case of custom printed disposable cups you buy, as well as five dollars from every case of holiday designs, is donated directly to charity:water to support clean water projects around the world.