Home / Reusable Drinkware
If you can make your brand a part of someone's everyday life, then you've gained a loyal customer. Our selection of customizable mugs and tumblers allows customers to enjoy hot or cold beverages in the comfort of their own home or on the go. Featuring unique textures, finishes, and vivid full color printing options, these high-quality items can become popular fixtures in your customers' homes and office spaces, as well as in their travel plans.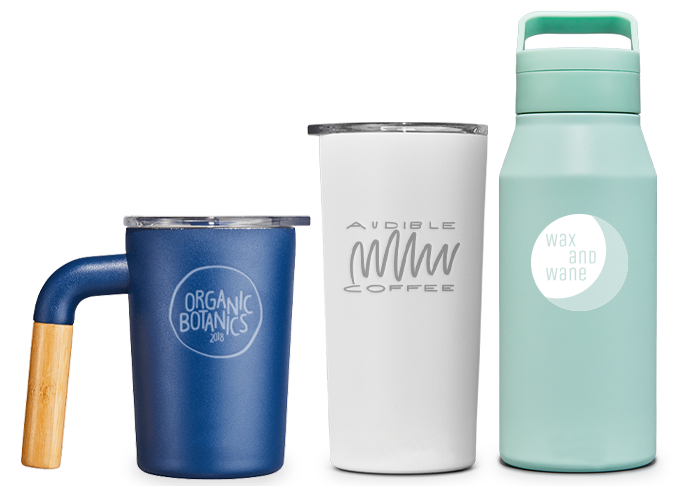 We know that tumblers can take a beating over the course of their usage, so we make sure that ours are strong enough to handle whatever life throws at them. From plastic poly-resin and acrylic materials to Welly's stainless steel/natural bamboo combo, these tumblers are as tough as they are beautiful. In addition, exceptional insulation keeps hot or cold beverages fresh throughout the day. Don't forget to leave your mark; utilize full-color printing – from laser etching to UV printing – to create dazzling visuals that promote your business in an exciting new way.
No matter what style look you're going for, Your Brand Cafe has the perfect mug for you. For those running a diner or breakfast spot, you can customize your own classic white diner mugs for an authentic vibe that customers will love. If you run a coffee shop or cafe, offer your customers mugs with matte finishes and brilliant color combinations as merchandise. Best of all, every mug we design comes with comfortable and sturdy handles that will fit any hand to a tee. Have your customers making space in their cupboard for your style of these customizable mugs!