Custom printed coffee sleeves are essential for any coffee shop that wants to stand out from the competition. Not only do they provide a great way to dress up your cups, they also offer an excellent opportunity to promote your business. By printing your logo on our corrugated custom sleeves, you can reach a wide audience of potential customers. In addition, custom printed coffee sleeves also offer an improved grip on cups and prevent discomfort from handling hot or cold beverages. If you're looking for a simple and effective way to promote your coffee shop, custom printed coffee sleeves are the way to go!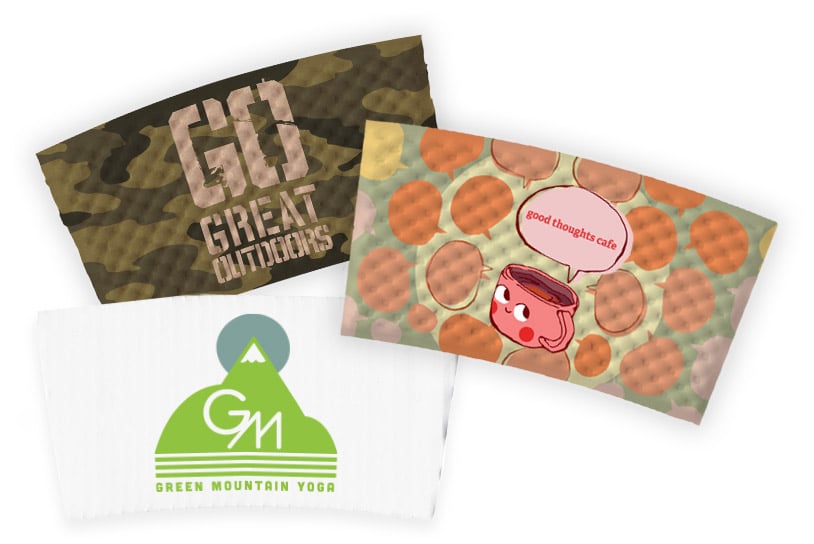 Branded Coffee Sleeves
Full wrap, full-color prints are available with our dimpled branded coffee sleeves, helping you boldly market your brand with every beverage served. From photos to custom artwork, we can print whatever you want in crisp and detailed quality. Recyclable and easy to store, these branded coffee sleeves also reduce waste and save space in your inventory. Take advantage of our low minimum of just 1 case and get exactly the amount of hot or iced coffee custom sleeves your business needs!
Custom Corrugated Sleeves
Customizable Coffee Sleeves
These corrugated sleeves – available in white or kraft paper – are excellent for any hot beverages your customers enjoy. From company logos to custom artwork, we can help you print beautiful customizable coffee sleeves that promote your business with professionalism. With our low minimum order requirements, you can get as few as one case of custom sleeves to fit just what your business needs. Create your own eye-catching customizable coffee sleeves today!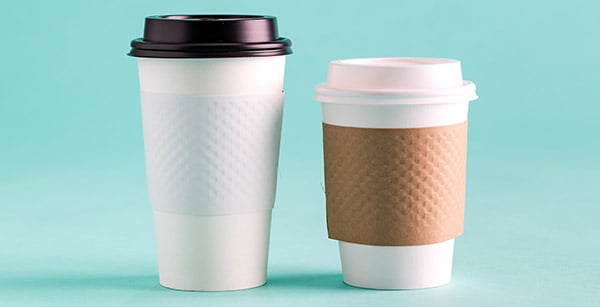 Whether you prefer the smoother surface of white sleeves or the rustic aesthetic of kraft paper sleeves, your customers will love the comfortable feel of our coffee cup sleeves while enjoying your delicious coffee. If you want to write customer names on the sleeves, pen or sharpie can help you personalize cups for every patron. Enjoy low minimums, great prices, and fast shipping with every order!
Holiday Coffee Cup Sleeves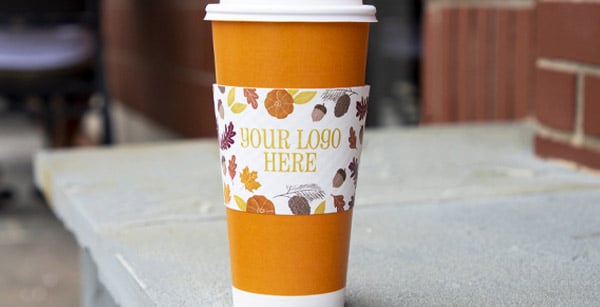 Depending on the time of year, you're probably wearing something that best fits the season. Why can't your cups be the same? With our selection of holiday cup sleeves, you can celebrate any time of year and its corresponding holidays! Featuring a snug fit that tightly wraps your cup, they add thorough protection and comfort when handling fresh coffee, tea, or other hot beverages. Plus, you can utilize our full color printing and intricate holiday designs for a little extra fun that also promotes your business in memorable ways. Don't wait until your favorite season arrives! Check out our newest designs and get started on creating your own holiday sleeves now!
Telling a Compelling Brand Story Through Social Media Captions
Being able to tell a compelling brand story through social media captions is an art that boosts your engagement. These tips will help you target your ideal customer when they scroll on social media. The art of storytelling is an intrinsic part of humanity. We tell…
One dollar from every case of custom printed disposable cups you buy, as well as five dollars from every case of holiday designs, is donated directly to charity:water to support clean water projects around the world.