Being able to tell a compelling brand story through social media captions is an art that boosts your engagement. These tips will help you target your ideal customer when they scroll on social media.
The art of storytelling is an intrinsic part of humanity. We tell stories to make people laugh, to feel deeply, or even to persuade them. Besides intriguing your audience, a good story builds a connection. When we look at the digital age, people and businesses are brought together more and more through social media platforms and brand storytelling. Your brand's personality only has seconds to capture the attention of each potential consumer. By telling a great brand story, your brand can resonate with other people and give them a chance to remember what your business is about.
A compelling brand story on social media doesn't just happen with paragraphs of text; it starts with your captions. Looking at TikTok, Instagram posts, or Facebook, each photo or video has unique captions that ties visual branded content together in just a few words.
In today's digital marketing age, social media is a crucial tool for businesses to reach potential customers and capture the attention of their target audience. We will explore how you can use Instagram captions and other social media captions to tell your brand story and build a better connection with your audience.
Incorporate Your Brand Values
What makes a person stop scrolling to think about your Instagram caption? Even though Instagram captions are usually just a few words, how do you tell a story? One trick is to show your brand values and emotionally connect with consumers by sharing your brand personality. Each time you create content, express your values in your captions and make a good brand story.
Values are an integral part of any brand and play a significant role in shaping its identity and reputation. While there are many values that a brand can adopt, some are more popular than others and have become synonymous with successful branding. In this context, if we were to compile a list of the most popular brand values, it might look something like this: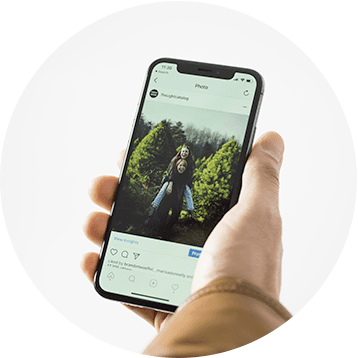 Accountability
Accountability is an essential part when incorporating brand values into a social media brand story and Instagram captions. It ensures consistency, authenticity, transparency, feedback, and continuous improvement. Consistent messaging builds trust, while authenticity establishes credibility and loyalty through personal stories and your brand storytelling. Transparency fosters audience engagement, while feedback enables necessary course corrections to help with your customer's pain points. Finally, continuous improvement guarantees that social media captions always reflect the audience's evolving needs and values, thereby fostering a culture of improvement in the brand voice and values.
Professionalism
High-quality content is a key element of incorporating brand values into your social media captions. It helps to build trust and credibility with your audience, reinforce your brand identity, convey attention to detail, and create an emotional connection with your audience. If your brand values include qualities such as professionalism, expertise, quality craftsmanship, or luxury, then high-quality content can help to communicate these values effectively. Ultimately, by showcasing high-quality content in your social media captions by telling great stories, you can create an authentic and memorable brand identity that resonates with your audience and drives business success.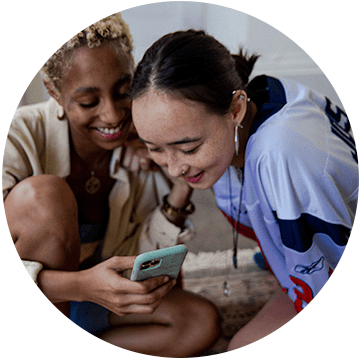 Wellness
Incorporating wellness into your social media captions is a growing trend in branding, which can help to align your brand with current trends and build a loyal following. This can be done in several ways, including highlighting health-related themes, incorporating sustainability and eco-friendly practices, promoting mindfulness and self-care, emphasizing community involvement, and encouraging personal growth and self-improvement for your mental health. By incorporating these themes into your Instagram caption, you can position your brand as a caring, and supportive entity that values sustainability, personal growth, and community connections.
Quality
High-quality content demonstrates professionalism, reinforces brand identity, conveys attention to detail, and builds emotional connection with the audience. By appealing to the senses and emotions of the audience, quality content can create a deeper relationship with them and position the brand as a caring company. Whether that means writing some funny Instagram captions or some cute Instagram captions, some of the best Instagram captions and Instagram posts showcase high-quality content for creating an authentic brand identity that resonates with the audience.
Passion
Incorporating passion into your Instagram captions is crucial in telling a brand story. It can demonstrate authenticity, create emotional connection, drive innovation, and inspire action. Passion is contagious, and showcasing it can build trust and credibility while inspiring and engaging the audience. Brands can effectively convey their values of authenticity, innovation, and boldness by showcasing their passion for the products and services by creating those funny Instagram captions, or just an Instagram caption that can be said in the brand voice that will entice more inspiration by telling your full story through your brand storytelling.
Service
Including service in your social media Instagram captions can aid in conveying a captivating brand narrative. This approach can exhibit customer-oriented values, accentuate corporate culture, convey excellence, and instill faith to your current customers. Demonstrating an unwavering dedication to exceptional service can establish a solid reputation within the industry, thereby fostering trust, loyalty, and credibility, ultimately resulting in business success.
Diversity
Incorporating diversity into your social media captions is an effective way to celebrate inclusivity, reflect your company culture, connect with a broader audience, and drive innovation. You can write good Instagram captions that showcases your commitment to diversity, by creating a brand story that resonates with your audience.
Authenticity
For many brands, infusing authenticity into their social media captions is essential. This practice not only fosters trust and integrity, but also accurately reflects the brand's unique culture, forming an emotional bond with the audience. By showcasing authenticity, brands can effectively communicate their core values and craft a powerful narrative that resonates with their audience, ultimately driving business success.
Now think about which values represent your brand the most and define them into your own words. For instance, you may prioritize authenticity the most. Authenticity could mean you keep it real, or it could be defined as being bold in your Instagram caption. Perhaps authenticity is about keeping a high level of transparency between your customers and staff by adding an Instagram caption that is true to your brand. Whatever that value means to you, incorporate it into your social media captions.
Ask Open-Ended Questions
If you think about the most powerful public speakers in the world, can you think of one that doesn't ask their audience questions? The most influential speakers such as Tony Robbins or Tracee Ellis Ross ask questions to build engagement. Questions are thought-provoking and are crucial for captivating the minds of your audience before your story begins.
Telling your brand story though your caption works perfectly with questions. For instance, say your coffee shop is promoting a new frozen coffee drink right in the middle of winter. You post a picture of your new drink even though part of your audience is bound to question your bold promotion, "Why would anybody drink a frozen coffee when it's already cold outside?". This is your chance to execute on your Instagram caption and ask the question first!
The question goes along with your post perfectly on your Instagram caption. "Are you drinking frozen coffee all year round?". Not only will people chime in on the comment section, but they are more likely to share the post and participate in debates between hot coffee and iced coffee. This kind of engagement is great for your brand, and the question gives social media users a reason to stop and pay attention.
Asking open-ended questions in your social media captions can be an effective way to engage with your audience. Here are some examples of some questions to incorporate and ask your audience when writing your Instagram captions and trying to tell your brand story:
What motivates you to use our product/service, and how does it improve your life?
How does our brand make you feel, and what emotions does it evoke?
Can you share a personal story or experience that relates to our brand?
What sets our brand apart from others in the industry, and why do you choose us?
How has our brand helped you solve a problem or meet a need?
What values do you associate with our brand, and how do they align with your own?
In what ways do you believe our brand contributes positively to society?
What are some of your favorite memories or moments involving our brand, and why do they stand out to you?
What do you hope to see from our brand in the future, and how do you envision us growing and evolving?
Remember that open-ended questions encourage your audience to share their thoughts, feelings, and experiences in their own words, which can help you craft a more authentic and engaging brand story. Overall, asking open-ended questions in your social media captions can help to build engagement, gain insights, demonstrate authenticity, prompt storytelling, and differentiate your brand.
Clean Structure
You might be wondering if captions should always be quick and punchy. This isn't necessarily true because there are times where you have plenty to say! Let's say you have an actual story where it's going to be at least a paragraph long. When you tell a compelling story, you can connect with consumers if they are willing to invest their time reading.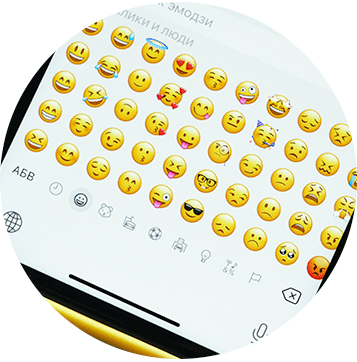 You can insert visual elements and clean up your structure so it doesn't look like one long block of text to keep readers invested. Instead, use emojis to end some of your sentences. Use emojis as bullet points to space out your text and deliver your story in a concise list. At the end of your story, separate your call to action. Add emojis on both sides to make your call to action stand out. You can also include an arrow pointing up such as, "Swipe up to see more on our website".
Structure matters when it comes to hashtags too. While using Instagram hashtags increases your reach and taps into large numbers of non-followers, they should look clean on your Instagram captions. Your goal isn't to stuff as many hashtags into your caption. It looks like spam and takes away from your compelling story. Use between 5 and 7 hashtags, but make sure they are relevant to your brand and put them at the end.
By maintaining a clean structure in your social media captions, you can enhance the readability of your content, making it easier for your audience to engage with your message. This is particularly important when you're trying to convey complex ideas or information. Additionally, a consistent and on-brand structure can help to establish a recognizable and memorable visual identity for your brand, which can help to differentiate it from competitors and create a stronger connection with your audience.
Consistency is key when it comes to social media captions. By using a consistent structure and tone, you can build trust with your followers and reinforce your brand's key messages and values. This will also help to create a more cohesive and unified brand image across all your social media channels, making it easier for your audience to recognize and remember your brand.
Ultimately, a clean and consistent structure in your social media captions is crucial for telling a compelling brand story and building a loyal following. So, take the time to craft captions that are clear, concise, on-brand and fun, and watch as your audience grows and becomes more engaged with your brand.
Your Brand, Your Story
Telling a compelling brand story through social media captions isn't as tricky as you might think. When you put yourself in the shoes of a consumer scrolling through an endless feed of attention-grabbing content, think about what makes them stop to look at yours.
When you throw your brand values into your social media captions, it shows your audience that you're dedicated to staying true to what you believe in. Plus, it helps build a stronger emotional bond with your followers. Try asking open-ended questions to get them involved and learn more about what they're looking for. You'll create a real sense of community around your brand, and who doesn't love that? Oh, and don't forget to keep things tidy and looking sharp. Clear, concise messaging with a visually appealing structure is key to grabbing your audience's attention and telling your brand story in the best way possible.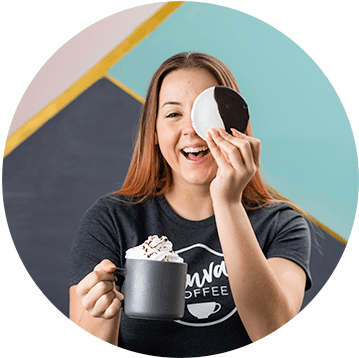 Ultimately, telling a compelling brand story through social media captions is essential for building a strong brand identity, engaging with your audience, and driving business success. Every story has a message behind it. Keep your message clear and relate to your ideal consumers so they can find true value in your brand!
By following these tips and incorporating your brand and your story into your social media strategy and captions, you can create a compelling brand story that resonates with your audience and drives business success. Contact Your Brand Cafe today for more information on how you can improve your brand marketing!