In the food service industry, competition is both intense and abundant. Not only are you going to find yourself up against other locally owned businesses in your community, but you're also battling the nationally recognized brands that have been established for years. Rather than burning through your budget with expensive advertisements, you can choose to make every customer interaction count with your own custom disposable cups!
From printed clear plastic cups and custom white paper cups to eco-friendly alternatives, we have a wide variety of custom disposable cups that can be customized to boldly promote your brand like never before. Plus, their recyclable and eco-friendly materials make for a safe and easy cleanup. Check out our comprehensive selection of items available for cup printing below and order new cups for your next event today!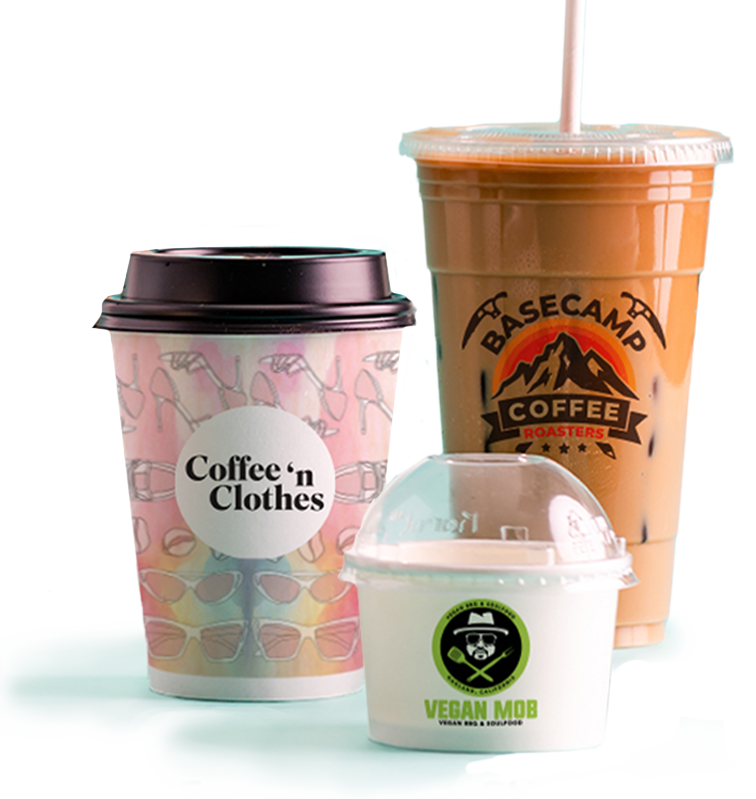 CUSTOM CUPS FOR COLD BEVERAGES
CUSTOM CUPS FOR HOT BEVERAGES
DISPOSABLE CUPS BUYING GUIDE
What material is used to make disposable cups?
There are several materials used to make our selection of disposable cups. Our disposable hot cups are made with poly-lined paper to prevent leaks. Our plastic cups, on the other hand, are made using two different materials: PET and PLA. PET plastic is a durable and flexible material that is one of the most commonly used in the world, while the bulk of PLA plastic is made from renewable materials like corn starch.
What size disposable cup do I need?
If you're running a coffee shop or restaurant, it's wise to have a wide variety of disposable drink cup sizes. We recommend using anything from 8oz cups – which are great for beverage samples and espressos – to 32oz cups. Despite 32oz drink cups sounding like potential overkill, customer sales numbers indicate that consumers are not shy about getting the largest drinks that cafes and restaurants have to offer.
Cup Printing
Looking for a trustworthy and reliable company that specializes in cup printing? Look no further! Our production capabilities are unbeatable in the industry, allowing us to design every customizable product to our customers' exact specifications. But what sets us apart from the competition is our commitment to including our customers in the design process, ensuring that every cup printed is just right. And if you have any questions or concerns about our products or designs, our stellar customer service team is always available to address them promptly. So why settle for mediocrity when you can have the best? Choose us for all your cup printing needs and experience the difference for yourself!
FREQUENTLY ASKED QUESTIONS
Why is there a disposable cup shortage?
The clearest cause of the disposable cup shortage is continued supply chain issues as a result of the COVID-19 pandemic. However, other factors have made the shortage more severe, such as the increased demand for carryout business and domestic paper mill labor shortages.
Are disposable cups safe?
Disposable cups are typically safer because of their materials. Unlike ceramics and glass drinkware, paper and plastic cups are lightweight and won't shatter, which can create harmful hazards. Paper cups can also be thrown away safely, whereas glass and other heavier materials make for unsafe and wasteful garbage.
What is the benefit of disposable cups?
Disposable coffee cups have several distinct benefits. For one, they are decidedly cheaper to customize and order than glassware and ceramic drinkware. They are also typically safer to use in business and restaurant settings, as they are lightweight and do not cause breaking hazards like glassware. Most importantly, custom disposable coffee cups are easy and convenient to take on the go.
Are disposable cups better for the environment?
Many of the disposable cups we offer are, in fact, better for the environment than styrofoam and other cup materials. For example, PET plastic is the most recycled plastic in the world, and it is regularly reused and repurposed after disposal. It also requires much less energy and fewer natural resources during production than other plastics.
We also offer PLA cups – both paper and plastic designs – that are safely compostable after use. Because PLA is a bioplastic, it can break down quickly and safely in commercial composting. As an additional product option, you can also incorporate our line of cup carriers into your inventory. These products are made from materials like molded fiber and cardboard, which are recyclable and able to be repurposed after use.
Are paper cups hygienic?
Paper cups definitively help to promote good hygiene. In fact, one of the first disposable paper cups to be mass-produced was created as a safety precaution to prevent the spread of germs.
Is it safe to reuse disposable plastic cups?
No, it is actually not safe to reuse disposable plastic cups. In fact, the very purpose of disposable cups – dating all the way back to their inception in the early 20th century – has been to prevent the spread of germs. While you could technically wash disposable plastic cups, it is much safer and more efficient to simply recycle them after usage.