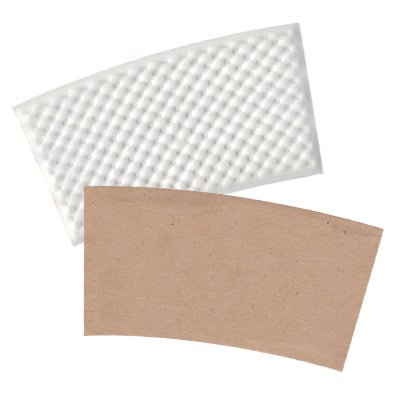 Coffee sleeves offer a versatile way to improve your customers' coffee experience. Our coffee sleeves fit most standard coffee cups, provide protection from heat, and are made from high-quality and comfortable materials that can be used for both hot and cold drinks. YBC Supply offers a variety of coffee cup sleeves in kraft and white paper options that will help keep your coffee shop stocked and ready to serve your customers.
Beverage Sleeves
Whether you're running a bustling coffee shop or just love a good cup of Joe on-the-go, beverage sleeves are a must-have item. They may seem small, but these little sleeves pack a big punch when it comes to improving your customers' coffee experience. With YBC Supply's versatile selection of beverage sleeves, you can ensure that your customers' hands are protected from heat and that their drinks stay at the perfect temperature. Plus, our high-quality materials make these sleeves comfortable to hold and suitable for use with all kinds of hot and cold beverages. Don't miss out on the chance to stock up on our kraft and white paper options – your customers will thank you!


Cup Wrapper
We're proud to offer a variety of high-quality sleeves, also called a cup wrapper, that will keep your drink at the perfect temperature while protecting hands from the scorching heat. Whether you're running a bustling coffee shop or just grabbing a cup on-the-go, our kraft and white paper options are sure to fit your needs. Plus, our materials are versatile enough to use with hot or cold beverages.
Frequently Asked Questions
What is the difference between Dimpled Coffee Sleeves and Corrugated Coffee Sleeves?
YBC Supply offers two main types of coffee sleeves: Dimpled and Corrugated. Here's how they differ:
Dimpled Coffee Sleeves: These sleeves are made from paperboard that has been embossed, resulting in a slightly dimpled texture. The dimples serve a purpose beyond aesthetics—they help with heat control. The texture acts as a barrier between the hot beverage and your hands, providing insulation and preventing burns.
Corrugated Coffee Sleeves: In contrast, Corrugated Coffee Sleeves are a thicker option. They feature a smooth surface on the outside, while the inside has a corrugated texture. The corrugation helps to create air pockets that work as an additional layer of insulation. This design keeps your hands cool and comfortable while providing a secure grip on your coffee cup.