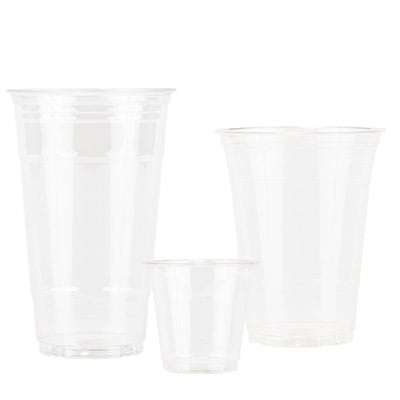 Discover the ideal solution for your needs with our disposable plastic cups. These clear plastic cups, available in bulk, combine clarity and strength, making them perfect for presenting refreshing drinks. For those seeking environmentally conscious options, we offer clear disposable cups made from PLA plastic, sourced from plant-based materials. These cups retain all the functionality of traditional plastic cups, but with a more sustainable footprint. Our disposable plastic cups enable you to deliver a top-tier beverage experience while exemplifying your commitment to quality and environmental responsibility.
Clear Cups
Hosting an event can be a lot of fun, but it also requires a lot of planning. Among the important things that you need to consider is the drinkware that you'll be using. If you want to make a good impression, clear cups may just be the ideal solution that you're looking for. Our disposable clear cups come in bulk and offer both clarity and strength. They're perfect for serving cold drinks. With our clear cups, you can deliver a top-tier beverage experience to your customers while showing your commitment to quality. Plus, the convenience of using disposable clear cups eliminates the hassle of cleaning up after. Get your hands on these clear cups now and impress with your great choice!


Plastic Cups with Lids
When it comes to disposable cups, our plastic cups with lids are the perfect solution. Not only do they come in bulk, but they offer superior strength and clarity, making them ideal for serving cold drinks. These cups allow you to deliver an excellent beverage experience to your guests while demonstrating your commitment to quality. Give these plastic cups with lids a try, and you'll see why they're such a popular choice! Lids sold separately.
Frequently Asked Questions