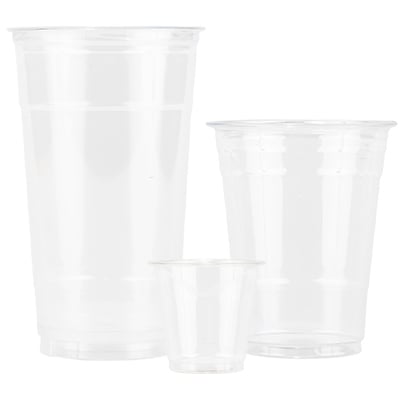 YBC Supply presents an extensive selection of clear plastic cups, offering a reliable and versatile solution for cafes and other beverage outlets. These clear plastic cups come in various dimensions to cater to diverse business demands. The unique aspect of YBC Supply is their low minimum order requirements, swift delivery, and competitive rates, ensuring you get your desired products promptly and at the most reasonable prices.
Designed to withstand cracks and creases, these clear plastic cups are user-friendly and compatible with most cup dispensers, promoting easy storage. Adding to their appeal, these clear plastic cups are also safely recyclable. This makes them an excellent selection for businesses aiming to minimize their ecological footprint.


Clear Cups with Lids
The right cup can make a big impression on your guests and help elevate your drinks. When it comes to disposable cups, our clear cups with lids are the perfect solution. Not only do they come in bulk, but they offer superior strength and clarity, making them ideal for serving cold drinks. Give these plastic cups with lids a try for your to go orders, and you'll see why they're such a popular choice. Lids are sold separately.


Clear Cup
Are you searching for the best solution to showcase your refreshments? Look no further than our clear cup! Not only are they available in bulk, but they combine high-quality clarity with the strength to hold up to any beverage. Show your dedication to delivering quality beverages while also demonstrating environmental responsibility with our recyclable clear cup.
Frequently Asked Questions