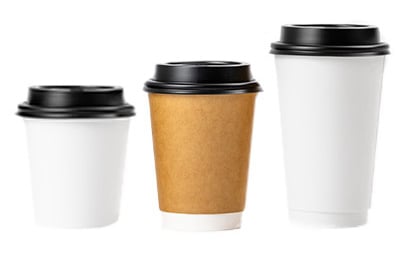 Explore our wide assortment of paper cups, encompassing single-wall paper cups, double-wall cups for enhanced heat insulation, eco-conscious choices, and paper cups designed specifically for cold beverages. Opt for our paper coffee cups to cater to your customers' demands while championing sustainability. Select our disposable coffee cups for top-tier quality, practicality, and an eco-friendly alternative to standard food and beverage service.
Disposable Coffee Cups
Looking for the perfect disposable coffee cup to serve your customers? Look no further, because we have a wide selection of disposable coffee cups that are not only high-quality and practical, but eco-friendly as well. Whether you need single-wall cups, double-wall cups for enhanced heat insulation, or paper cups specifically designed for cold beverages, we've got you covered. And the best part? Our disposable coffee cups are the perfect choice for those who want to be environmentally conscious without sacrificing quality or convenience. So why wait? Choose our disposable coffee cups today and show off your sustainability efforts while keeping your customers happy.


Paper Coffee Cups
We pride ourselves on delivering exceptional quality and sustainability with every cup. Choose from a wide range of options, including compostable eco-friendly materials, all designed to enhance your customer's beverage experience. Our paper coffee cups keep your coffee warm and delicious, while our paper cold cups provide comfort and a leak-resistant interior lining. So go ahead, upgrade your beverage service with our paper coffee cups and make a positive impact while quenching your customers' thirst.
Frequently Asked Questions