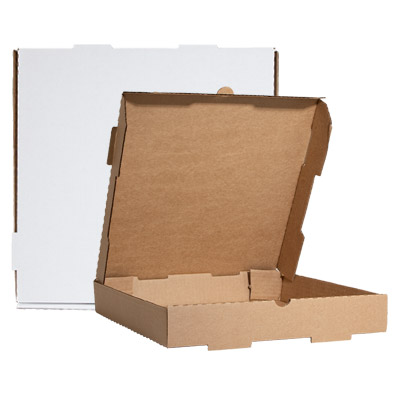 Renowned for their sturdiness and durability, these blank pizza boxes are an ideal choice for your pizza-serving and take out needs. Whether you're catering to customer takeout orders or operating a bustling pizzeria space that serves families and large groups your freshly baked pizzas, our wholesale selection has you covered. Ranging from 10″ to an impressive 18″ in length and width, our diverse range of sizes ensures there's a perfect fit for every occasion without overwhelming your inventory of boxes. Assembling these boxes is a breeze, making them suitable for both dine-in and takeout orders. Furthermore, their versatility extends beyond pizza, making them an excellent choice for pastries, desserts, sandwiches, quesadillas, or any kind of food you can think of that can fit in these pizza box sizes. Elevate your food packaging with our top-notch pizza boxes, offering reliability and versatility for your business.
White Blank Pizza Boxes
Is your business harnessing the promotional power of white pizza boxes? Pizza is a delicious crowd pleaser and with a sleek white pizza box to pack those delicious pizzas, your customers will go crazy over its nice design and durable take out quality! It's time to give recognition where it's due with our top-of-the line pizza packaging solution that keeps pies secure with these pristine white pizza boxes! Don't wait any longer – take advantage now and place your first order today.
Effortlessly and expertly transport your pizzas with our immaculate white pizza boxes! Designed for utmost durability and reliability, these boxes are meticulously crafted to ensure optimal freshness and unparalleled flavor for pizzas, bakery delicacies, and various culinary items tailored to your business requirements. Whether savored within your establishment or taken for enjoyment elsewhere by your patrons, our pizza boxes consistently uphold an exceptional standard of quality.
Embrace top-tier delivery standards with our pristine white blank pizza boxes, safeguarding the flavor and scrumptiousness of your generously adorned pizzas. Engineered from robust cardboard, these boxes effortlessly handle even the most toppings-laden pizzas, ensuring a secure journey for your customers' cherished pies. Our boxes assure the delivery of piping-hot, freshly-made pizzas while presenting an aesthetically pleasing appearance. Their simple storage and assembly streamline the packaging process for your dedicated team. Moreover, their adaptability goes beyond pizzas, accommodating an array of culinary delights, from tantalizing pastries to savory quesadillas. Elevate your takeout and dine-in services to new levels using our blank white pizza boxes, a testament to your business's professionalism and unwavering dedication to unparalleled quality.
Kraft Pizza Boxes
With the classic look that is synonymous with top-tier pizza joints, Kraft pizza boxes are a fantastic option for your pizzeria. Their sturdy cardboard construction ensures that your pizza stays hot and fresh during transportation from dine-in customer to takeout. Plus, customers appreciate the convenience of having a disposable box. Elevate your pizza service with these pizza boxes! These robust and dependable pizza boxes are ideal for preserving the freshness and irresistible flavor of your pizzas, whether they're enjoyed at your restaurant or taken home as a carryout order. Enhance your business by serving your finest pies and assorted food items with impeccable quality and presentation with these blank pizza boxes.
Unparalleled in strength and stability, our Kraft pizza boxes effortlessly accommodate even the most generously topped pizzas. Crafted from robust cardboard, known as corrugated fiberboard, and featuring an attractive brown interior, these boxes remain firm under pressure, ensuring the safe transportation of your customers' favorite pizzas. Our boxes provide a guarantee that your patrons will enjoy pizzas that are both piping hot and freshly presented. Beyond their easy assembly and space-efficient storage, these boxes streamline the packaging process for your diligent team. Furthermore, their versatility extends to more than just pizzas, making them suitable for a range of food styles including pastries and quesadillas. Elevate your takeout and dine-in services with our Kraft blank pizza boxes, a reflection of your business's professionalism and unwavering dedication to uncompromising quality.
Pizza Boxes Offered in Different Sizes
One of the best parts about pizza is that it comes in various sizes! Our awesome plain pizza boxes offers a range of sizes to accommodate your specific needs. No matter how many sizes or styles of pizza you offer your customers, we have the perfect pizza box size for you.
Our blank pizza boxes are available in 10″, 12″, 14″, 16″, and 18″ sizes, making them suitable for various pizza diameters. Each size of packaging is carefully crafted to ensure a snug and secure fit for your pizzas, keeping them fresh and intact during transportation whether it's for your dine-in customer or your carryout orders. No matter what size pizza you're serving, our custom pizza boxes will provide the perfect packaging solution to showcase your delicious pies with pride.
Frequently Asked Questions
Are the plain pizza boxes recyclable?
Clean pizza boxes are recyclable, but they are not once they absorb grease and other byproducts of pizza. To recycle cardboard pizza boxes, you have to separate the individual cardboard fibers, which is extremely difficult when they've been soaked in grease. You should likely just throw any used pizza boxes into the garbage.
Why would I choose blank pizza boxes?
Blank pizza boxes provide the flexibility to add your own branding and designs. This allows you to create a unique and consistent look that aligns with your franchise's identity. Or a way for your business to have an affordable sleek design with either our plain white or kraft pizza boxes.
What kind of paper is used for pizza boxes?
Paper is not typically used to make custom boxes, simply because it doesn't have enough durability, strength, or the ability to retain heat like other materials. Instead, many pizza boxes are made using corrugated fiberboard, otherwise known as corrugated cardboard. Cardboard pizza boxes are far more reliable and durable, easier to store in inventory, and simple to put together.
What are the dimensions of a pizza packaging box?
It depends on the size of your custom pizza box. At YBC Supply, our selection of boxes range from 10″ to 18″ in length and width, while the depth of each box is about 2″. Also this makes the storage and assemble of the pizza boxes much easier for your business.
What is the best material for pizza boxes?
Corrugated fiberboard, also known as cardboard, is the best and most convenient material for personalized pizza boxes. It retains heat, remains sturdy when serving in-house or during delivery, and is easily disposable. Plus, you can customize it easily with color printing to represent your business.
Can I add my own logo and branding to the boxes?
Yes, one of the main advantages of blank pizza boxes is that you can customize them with your own brand and artwork. While YBC Supply offers you the sleek design of having a plain white or kraft pizza box, at Your Brand Cafe we also offer custom printed pizza boxes for an easy and convenient way to print your logo or design in bulk without the hassle of having to put the artwork yourself.