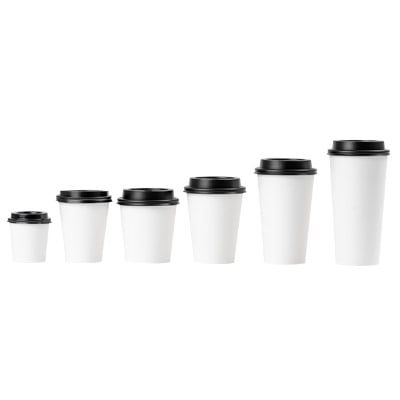 Disposable paper cups are a necessary item for coffee shops, restaurants, and cafes. Made from durable paper material, they are perfect for hot beverages and are available in various sizes. These paper cups for hot drinks are compatible with our selection of lid sizes, making them great for to-go beverages. YBC Supply offers bulk orders of blank single wall hot cups and more at competitive prices with low minimum orders, fast turn times, and fast shipping.
Our disposable paper cups redefine convenience in the world of hot beverages. Meticulously crafted from premium paper material, these cups offer a durable and comfortable grip, ensuring a seamless on-the-go drinking experience. From espresso shots to lattes, they cater to diverse preferences, making every sip a delight for your customer base. Whether you're a small business or a multi-store chain, our cups are a great choice for all of your hot beverage needs.
Paper Cups for Hot Drinks
No two hot drink preferences are the same, and we've curated a diverse range of disposable paper cups for hot drinks to cater to every taste. Whether you're in need of single-wall cups for classic hot beverages,
double-wall cups
for added insulation in your paper cups for those hot drinks, or cups designed specifically for cold drinks, we have the perfect option for you. Our commitment to quality ensures that your customers' beverages stay at the ideal temperature, sip after sip. The paper cups for hot drinks offered by YBC Supply transcend their utilitarian role, embodying excellence in design, functionality, and sustainability. These cups redefine the manner in which hot drinks are enjoyed, offering a delicate balance between sturdiness and comfort.. Boost your brand, enhance the customer experience, and contribute to a more sustainable world – all through the simple yet impactful choice of disposable paper cups for hot drinks
Disposable Coffee Cups
Looking for the perfect disposable coffee cups to serve your customers? Look no further, because we have a wide selection of disposable coffee cups that are not only high-quality and practical, but eco-friendly as well. Whether you need single-wall cups, double-wall cups for the enhanced heat insulation, or paper cups specifically designed for those
cold coffee drinks
, we've got you covered. What sets our disposable coffee cups apart is their inherent sustainability. In a world increasingly driven by environmentally conscious choices, our cups resonate with those who prioritize responsible consumption. Opting for our cups means endorsing eco-friendly practices without compromising the convenience your customers expect. These cups can symbolize your brand's dedication to both superior service and a sustainable future. Embrace quality, practicality, and environmental responsibility by choosing our disposable coffee cups today – they're more than cups; they're a testament to your commitment to exceptional service and ethical choices. So why wait? Choose YBC Supply's disposable coffee cups today and show off your sustainability efforts while keeping your customers happy.
Paper Coffee Cups
We pride ourselves on delivering exceptional quality and sustainability with every cup. Choose from a wide range of options, including compostable eco-friendly materials, all designed to enhance your customer's beverage experience. Our paper coffee cups keep your coffee warm and delicious, while our paper cold cups provide comfort and a leak-resistant interior lining. By integrating our paper coffee cups into your beverage service, you not only enhance the taste and presentation of your offerings but also align your brand with sustainability. Each cup becomes a canvas to showcase your commitment to both top-notch service and responsible choices. Join us in upgrading your beverage service with our paper coffee cups, embracing quality and sustainability in every pour. By incorporating these cups into your operations, you make a meaningful impact that goes beyond refreshment – it's a step towards a more environmentally conscious future while quenching your customers' thirst for exceptional experiences.
Frequently Asked Questions
Are disposable paper cups OK for hot drinks?
Our single wall and our double walled hot cups are great for all sorts of hot drinks. Not only do they offer good insulation from hot beverages like coffee, hot chocolate or tea, they also feature an interior lining that prevents leaks or spills from staining clothes and surfaces. These disposable cups make it easy for your customers to take it to go while keeping its warmth
Do you offer lids that fit these cups securely?
Yes, our disposable paper cups are compatible with our wide selection of lids. These lids provide a secure fit, preventing spills and leaks, making them perfect for on-the-go consumption for your customers to enjoy. And YBC Supply has a variety of lids available to cater to any of your paper cup needs.
What are the advantages of using disposable paper cups?
Our disposable paper cups are not only practical but also eco-friendly. Made from sustainable materials, these cups are a testament to your commitment to reducing single-use plastic waste. By choosing our paper cups for hot drinks, you're making a positive impact on the planet while still offering the convenience your customers expect with a no mess, easy clean up after they use our cups.
Are these cups suitable for serving tea and other hot beverages besides coffee?
Absolutely! Our disposable paper cups are not limited to coffee; they are designed to accommodate a variety of hot beverages, including tea, hot chocolate, and more. Their sturdy construction ensures they can handle a diverse range of drinks and come in a variety sizes for all your customer's beverage needs. 
How do I know which cup size is best for my menu?
Choosing the right cup size depends on your menu offerings and customer preferences. We offer a wide variety of cups from 4 oz sample cups to our big 20 oz hot paper cups, we've got something for any of your business needs.
Can I recycle these disposable paper cups?
Our disposable paper cups are designed to be environmentally friendly, and many local recycling facilities accept them. However, recycling guidelines can vary by location. We recommend checking with your local recycling center to ensure proper disposal practices for our cups.