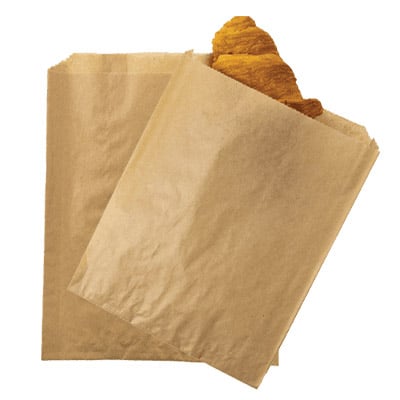 Give your sandwiches and pastries that extra touch of professionalism by sending them on their way in our paper pastry bags perfect for all your carryout needs. Measuring 8.5″ in length and 6.5″ in width with a 1″ gusset, these small Kraft paper bags are the perfect grease-resistant option for your yummy food products. These perfectly-sized bags provide ample space for your mouthwatering treats while ensuring a mess-free packaging solution. We understand the importance of presenting your pastries in the best possible way, which is why our Kraft Paper Pastry Bags are not only eco-friendly but also durable and aesthetically charming. Whether you're a restaurant owner, cafe, brewery, church or gathering materials for an event for your business, these bags are the ideal companion for your delectable creations. Join the sustainable movement while enhancing your pastry or sandwich presentation – discover the perfect size for your baked goods today!
Showing the single result
Customers will find and love the convenience of these paper bags while carrying out their snacks without dropping crumbs or getting sticky hands. You'll love these pastry paper bags because of how easy it will be to pack and stock a variety of contents in the bag and the price of preserving those yummy food items for all your carryout needs.
Frequently Asked Questions
Why Choose Paper Pastry Bakery Bags?
Optimal Sizes:
Measuring 8.5″ in length and 6.5″ in width, this bag has a great balance between being spacious enough to hold your delectable treats and compact enough to ensure convenient handling and ease of stock and storage. They are ideal for a variety of pastries, from mouthwatering white chocolate cookies, pretzels to sandwiches and a variety of other contents, you'll love these bakery bags.
Grease-Resistant Barrier:
An essential part of any take out bag is to preserve the integrity of the contents inside of the bag. Our Kraft Paper Pastry Bags are designed with a grease-resistant barrier, keeping oils and moisture from seeping through the bag. This ensures that your treats stay fresh and presentable, even during transport or display.
Biodegradable & Eco-Friendly:
Embrace sustainability with our eco-friendly Kraft Paper Pastry Bakery Bags. Made from biodegradable materials, these bags are an environmentally responsible alternative to traditional plastic bags. You can dispose of them with peace of mind, knowing they will break down naturally without harming the planet.
Durable & Reliable:
Despite their eco-friendly nature, these pastry bags don't compromise on durability. Crafted from high-quality Kraft paper, they boast excellent strength and sturdiness, providing a reliable tool for all your baking and food packaging needs.
Versatile Application:
These pastry bags are incredibly versatile and can accommodate a wide range of food products. Whether you're serving sweet treats like chocolate chips cookies, small pretzels or savory delights like sandwiches or breads, our Kraft Paper Pastry Bags are up to the task. Their versatility makes them a must-have for restaurants, bakeries, cafes, food trucks, business events and more.
Charming Aesthetics:
The natural Kraft paper appearance adds a touch of rustic charm to your baked goods, enhancing their visual appeal. Your customers will appreciate the simple yet elegant presentation, making these bags the best for showcasing your baked goods while keeping its contents preserved well in the bag. You can also add in
custom safety seals
to ensure that the contents stay fresh and protected during transportation, while having your brand on the seal.
Our Paper Pastry Bags are the epitome of eco-friendly convenience and functionality. With their perfect size of 8.5″ x 6.5″ and a 1″ gusset, they provide the ideal space to showcase your mouthwatering treats while ensuring a hassle-free experience. Not only do these bags support your baked goods, but they also play a crucial role in reducing environmental impact, being biodegradable and made from sustainable materials. At YBC Supply, we take pride in offering products that not only meet your take out pastry needs but also align with your commitment to a greener planet. So, whether you're a professional baker, a cafe owner, or business running an event seeking sustainable packaging solutions, our Paper Pastry Bags are the best choice. Our bags offer quality, functionality, and convenience. Choose our paper pastry bags to enhance your packaging experience and provide a seamless service to your customers.
Order your pack now with YBC Supply and discover the perfect size for your pastries. Elevate your baking game and other goodies with our grease-resistant, biodegradable Kraft Paper Pastry Bags and make a positive impact on both your business and the planet.