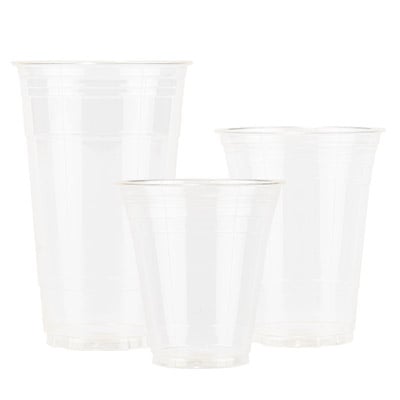 These Clear PLA cups align with our commitment to sustainability and are designed to reduce environmental impact. In addition to being compostable, our clear PLA cups are freezer-safe and allergen-free, providing a safe and reliable choice for your business and customers. With their versatile design, these compostable cups are perfect for serving a wide range of beverages, including beer, soda, iced coffee, and tea. Embrace the combination of functionality, sustainability, and safety by opting for our clear PLA Cup and contribute to a greener future with every sip.
Compostable Cup
Our clear PLA cups are more than just an eco-friendly choice – they're a versatile and reliable option for your business. This compostable cup is designed to reduce environmental impact while also being freezer-safe and allergen-free, ensuring a safe and functional solution for your beverage needs. By opting for a compostable cup, you'll be contributing to a greener future with every sip. So why not make a sustainable choice that doesn't sacrifice functionality and style?
Eco Friendly Plastic Cups
Looking for a versatile and eco-friendly solution to serve beverages? Our eco friendly plastic cups are the perfect choice for your business! Not only do they reduce environmental impact, but they're also freezer-safe and allergen-free, making them a reliable option for any beverage need. And let's not forget their sleek and clear design, making any drink look visually appealing. From iced coffee to soda, even beer, our cups are a sustainable and stylish way to serve up your beverages. Forget the plastic cups that harm the environment and opt for our eco friendly plastic cups, contributing to a greener future with every sip. Trust us, making the switch to eco-friendly plastic cups will not only benefit the environment but also enhance your presentation and brand image.
Frequently Asked Questions
Do you recycle compostable cups? While it may be tempting to recycle compostable cups like other plastic cups, it is important that you do not recycle PLA plastic cups. They are strictly compostable and should be disposed of via a commercial composting facility where the plastics can break down more efficiently. Are compostable plastic cups really compostable? Yes, compostable cups are genuinely compostable, but only in commercial composting facilities. Compost piles created at home or found in the community are not efficient at breaking down the PLA plastics in these eco cups and will result in additional waste.