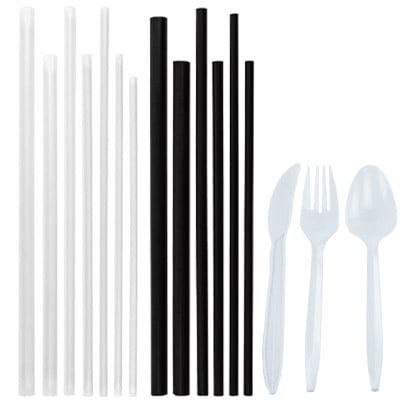 Our collection of plastic accessories ensures that you have all the necessary items to enhance your customers' dining experience. Whether it's sipping on beverages or enjoying meals on the go, our high-quality plastic straws and utensils are designed to meet your needs. Choose our plastic accessories to provide convenience and reliability while maintaining the utmost quality for your customers.
Plastic Accessories – Straws, Utensils & More
We understand the importance of providing your customers with an amazing dining experience. That's why we created a collection of plastic accessories that will make sure your customers have everything they need. Our high-quality plastic straws and utensils are designed to cater to your customers' needs while adding a touch of convenience and reliability. With our selection of plastic accessories, you'll never have to worry about running out of utensils or straws again. So why not choose our collection of plastic accessories? Trust us, your customers will notice the difference, and you'll be left with happy customers who'll keep coming back.
Frequently Asked Questions