Custom brand cups are the key to building a successful coffee shop. One look at Starbucks will tell you that something as simple as a coffee cup can inspire excitement and even furious debate! Your cup is the way you introduce yourself to customers beyond your doors, so make the best first impression by designing your own custom printed coffee cups! We can help you create cups that will call attention to your brand and develop your customer base.
FREE SHIPPING ON ORDERS OVER $250*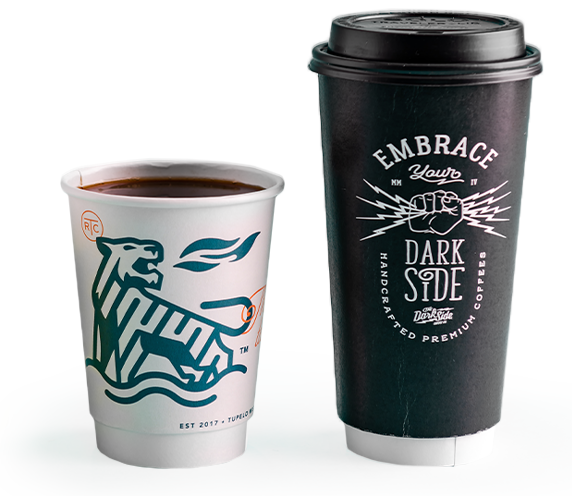 Printed Double Wall Hot Cups
Your Brand Cafe is proud to offer full-color wrap printing on the 8oz, 12oz , 16oz, and 20oz sizes of our incredible double wall insulated paper coffee cups. No design is too complicated, whether it is as simple as a one-color logo or as complex as an actual photo. Our team is ready to help you brand the perfect cups to represent your business.
With an extra layer of paperboard wrap on every cup, even the hottest pour of fresh coffee will be easy to handle. The cups are also leak-resistant, keeping your customers safe from surface stains or nasty spills. Add our corresponding lids to these cups for a safe and secure coffee cup that doubles as a beautiful brand advertisement!
Unprinted Double Wall Hot Cups
Your Brand Cafe carries high-quality double wall insulated paper coffee cups to protect your customers' hands from your hot beverages. These insulated coffee cups have an extra layer of paperboard included to eliminate the need for double-cupping or cup sleeves. These insulated cups are poly-lined, leak-free, and disposable. The double wall design of these insulated cups feels comfortable in the hand while protecting it from heat. With low minimum orders and fast delivery times, you can get exactly what you need in inventory quickly and for an amazing price!
Seasonal Double Wall Hot Cups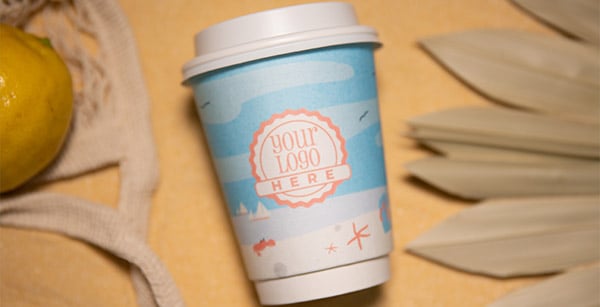 There is nothing quite like the excitement and anticipation that comes with the changing of the seasons. Add some seasonal buzz to your business with our selection of custom printed hot cups! These insulated cups offer an extra layer of paperboard to make hot coffee far easier to handle. Plus, with our variety of seasonal and holiday designs, you can celebrate special occasions year-round – from Valentine's Day and St. Patrick's Day to Christmas and New Year's Eve. Follow the link to check out all of our designs and get started on creating your own custom cups today!
One dollar from every case of custom printed disposable cups and bowls you buy, as well as five dollars from every case of seasonal designs, is donated directly to charity:water to support clean water projects around the world.