Increased environmental awareness has made Earth Day more talked about than ever before. Established in 1970, Earth Day focuses on the promotion of building a clean habitat in order to protect our planet.
As a restaurant or cafe owner, you also have the power to make a difference. There are ways to make your restaurant greener which actually have multiple benefits for your business. You can cut food expenses while slashing the costs of utilities, and many of your upgrades could be quick and easy to complete.
What Does It Take to Go Green?
"Going green" means to dedicate efforts towards protecting our planet. Environmentalism is pervasive in our culture, from the news, social media, and politics, to technology and vehicles. This green movement has shifted into almost every business sector and the restaurant industry is no stranger to it. Cafes and restaurants around the world are making the shift to eco-friendly practices, even though it takes change.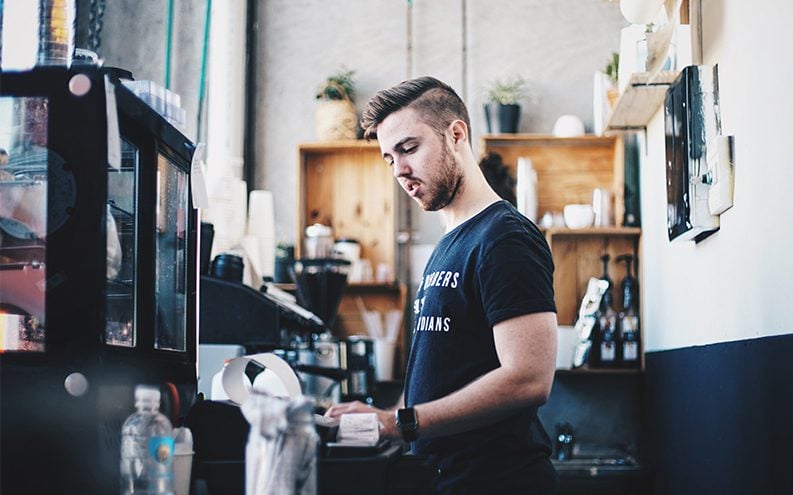 The restaurant industry has to be willing to change to new operating strategies if they wish to go green. Anything such as biodegradable supplies, inventory management, and energy efficient appliances are great contributors. If you are interested in reducing your carbon footprint, then you're in luck. Plenty of green options save you money and boost your efficiency in the long run. Not to mention, your business can market your green tactics, which are attractive to your customers. Here are some tips on getting started: 
A big mistake a lot of restaurants make is buying too much food and storing it incorrectly. According to foodprint.org, between 4 and 10% of food purchased by restaurants is wasted before reaching the customer. Not only is wasted food causing your business to lose money, but it's wasteful to the planet. If you want to contribute to Earth Day this year, consider taking a look at your inventory.
Keep track of how much food is going to waste each month in an organized sheet with order dates and expiration dates. Try to make some green goals such as reducing the percentage of wasted food. You'll notice that your inventory costs will be slashed in no time! 
LED or Halogen Light Bulbs
Motion Sensored Lighting
Portable (Spot Cooling) Air Conditioners
Energy Efficient Fryers and Griddles
Electric or Solar Water Heaters
Low Flowing Spray Valves
An easier task you could complete for a greener working space is maximizing your ventilation. Check your vents for excess grease and smoke that is trapped in the system. The excess material retains heat in the building which may mean that your business is spending more on air conditioning.
Do regular maintenance on your current appliances by checking for calibration. Your equipment may fall out of sync over time, including your refrigeration, dishwashers, and water heaters. Try checking the thermostat of each appliance and making sure each one is operating at an optimal temperature.

It's very possible to clean your building with hazard-free cleaning products. Environmental-friendly cleaning products are effective when it comes to breaking down tough grease and oil. On the flip side, they don't expose your employees to fumes, chemicals, and other harmful effects. While you search for cleaning products that are green, we've put together a list of characteristics to look out for: 
Fully Biodegradable
Non-Corrosive
Non-toxic
No fumes
Eco-friendly
Water based
No acids or abrasives
Non-flammable
All natural
Environmentally safe
Updating your cafe and restaurant supplies is a trendy way of contributing to what Earth Day represents. Straws, for example, could be swapped from plastic to biodegradable material. Plastic straws pile up in trash cans and take a long time to break down. They make their way to the ocean, where plastic is a huge threat to sea animals like seagulls and turtles. Biodegradable straws, on the other hand, are made out of natural materials like sugar cane and bamboo. 
Biodegradable straws are becoming more durable and they are just as functional as their plastic counterparts. Even during production, plastic straws require more carbon emissions than biodegradable options. By switching, you can help reduce air pollution by not buying plastic materials. They are also affordable (especially if you buy in bulk) which makes your shift to green products that much easier. 
Even disposable drinkware has become more eco-friendly. Cup producers have begun using paper that incorporates PLA, also known as polylactic acid. When used as an interior lining, this material works to prevent leaks and makes cups disposable via composting. Best of all, they can be customized in full color for creative brand marketing that can attract new customers.
Contributing Towards a Happy Earth Day
Every action we take towards our business leaves a footprint on the planet. It's up to you to decide whether it will be a positive or negative impact. The good news is that making a contribution towards the goals of Earth Day is more possible than ever before. Biodegradable products and eco-friendly products are readily available. Other upgrades such as energy efficient appliances have long-term benefits that will actually help your restaurant or cafe in the long run. 
While it may be uncomfortable at first changing your business operations, it's well worth it. Soon enough, the way you do business will be quicker and save you costs like when you manage your food storage. With Earth Day bringing even more green awareness this year, what will your contribution be?