We here at Your Brand Cafe want to give our customers and clients new options
that revamp or revitalize our classic products to coincide with new trends and allow for a "fresh start" for iconic cafe accessories. The subject of this article will be none other than our sleeves, which have gotten a lot more than just a makeover, and are now known as Dimpled Sleeves!
The first and most noticeable change in sleeve format is, of course, the dimpling! While the usual sleeves had little to no texture and were smooth, the dimpled texture of these sleeves add a number of interesting features that make this item an exciting one. The first is, that the dimpling makes the sleeve easier to hold, which is simple but something really important. You may not have ever lost your grip on a sleeved cup of coffee, but for every bleary-eyed cafegoer at 6 am, this is a living nightmare, so now, even the sleepiest coffeeholic can rest easy knowing their cups are going to be easier to hold.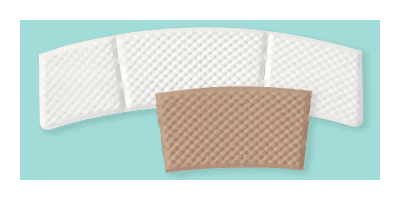 The other interesting feature of the dimpled sleeves is that they utilize a different method of insulation than the standard coffee sleeve. While the previous iteration was an accordion-folded interior sheet of corrugate sandwiched between 2 thin sheets of paper, this version is all one single sheet of paper. The dimpling process makes it so the sleeve touches the cup in certain spots, which distributes the heat across the sleeve while also having these cool air pockets, making a more efficient form of insulation. While that explanation can be a bit wordy, it is pretty cool to point out to customers that there's a lot more science in this new form of sleeves, and if they don't like science, then magic applies too.
The next, and arguably the most important, change we've made to our sleeves is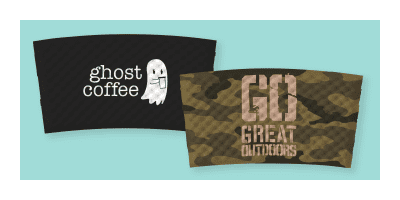 how we print them. We've now developed a method to allow for a full-wrap and full-color printing process! So if you've ever wished that you could wrap your entire sleeve in color or a high-resolution photo, that option is now open to you! Gone are the days of color limits as well; this new process utilizes a CMYK ink printing so we can print every color you can think of and even add white or spot-gloss in for emphasis!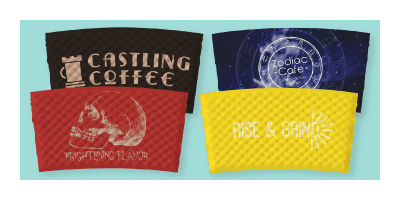 Whether you wanted a sleeve with just your logo in two colors or if you wanted to go wild with a backdrop and have your logo reversed out, we can print it, and we can get it to your establishment's doorstep!
As a branding utensil, coffee sleeves are one of the most versatile tools at your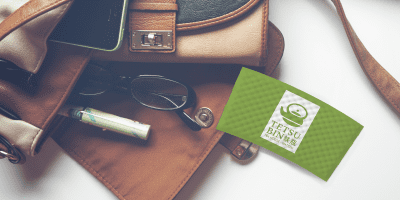 disposal: they fit most sizes of hot cups and even cold cups, they can be saved by a customer even if they throw the cup away, and they can act as the business card for your establishment. With all of these new branding avenues to explore, expanding your brand with dimpled sleeves is an exciting start to a whole new year! As usual, dimpled sleeves are available in white and kraft paper stocks and can be recycled!