Despite the common misconception, people don't spend their free time at cafes just to get their caffeine fix. When people visit a cafe, they are looking for a specific kind of environment or ambiance. Every cafe is a little different depending on the brand, but regardless of your cafe's brand identity, you will need to find a good way to present it.
Fortunately, there are plenty of great branding options that you can embrace to make your cafe a memorable place that will keep customers coming back. In this post, we will discuss some of the most overlooked branding items that can really spice up your business.
1. Team Uniforms
Cafes are notorious for being lax when it comes to uniforms, but they're missing a big branding opportunity.
Think about some of the biggest brands in the industry. It's very easy to recognize Starbucks green aprons. This helps patrons of your cafe create key distinctions between your brand and any old coffee shop. Each time a customer enters, they know what to expect in terms of service and who to look for if they need assistance.
On average, cafes can get incredibly busy, particularly during peak hours. Having clear uniforms makes it easy for visitors to snag an employee when they need help. It also does wonders for professionalism and makes it easy for you to keep a consistent dress code with employees.
You can invest in t-shirts, aprons, and even jackets to highlight your team in a fun and fashionable way while promoting your brand.
2. Custom Drinkware
The average cafe sells an incredibly large number of drinks on any given day. In 2019, 64% of Americans aged 18 and over drank coffee every day.
So, why do so many cafes serve up the same boring disposable cups? Making the choice to sell custom disposable cups gives you the ability to put your brand in front of potential customers. Most people don't just grab their coffee and then hideaway. People are taking coffee into work, so make sure that your brand is there for everyone to see. It's a great way to get people talking.
The best part? It works virtually, too. Even spying a customized insulated paper cup during a Zoom meeting can make a memorable impression.
3. Branded Visuals
People are generally very visual, which is why branding largely focuses on what people can see.
Branded visuals allow you to remind people that they have stopped by your cafe, not just any cafe. Visuals come in many different forms and can really liven up the personality of your cafe. Consider photos or images, or even light-up signs that use words you want to be affiliated with your brand.
In the era of COVID-19, floor graphics have become an excellent way to help people social distance. They also help organize lines in your store and serve as an exciting new way to promote your cafe to customers. As they wait in line, patrons will see these graphics and be reminded of your brand. This creates a unique feel that can generate repeat business and can even have customers sharing these stickers on social media.

Signs are an incredibly easy way for you to create your brand. Whether you are dressing up your bathrooms or showing off your menu with a fun custom sign, you can really sculpt your image. There are so many good ways to define your brand, such as adding fun coffee quotes to the wall or presenting your specials in a fun way. Having nice outdoor signs can convince people to walk in and check out your cafe, so make sure to present your cafe well. Empty walls are boring, so decorate them with helpful signs and novelty pieces.
It is a great opportunity to dress up the appearance of your cafe with minimal effort.
4. Merchandise
Plenty of people own mugs and thermoses from popular coffee brands. Why is that? Is it just because people like to buy things that say 'Starbucks' on them?

There is actually more to it than that. When a customer enters your cafe and spots a fun piece of merchandise, they will feel pretty compelled to invest in it. People love buying mugs and coffee sleeves from their favorite local places. It is a way to show off something that plays a pretty big role in their day—and it acts as a great conversation starter.
Now more than ever, people love supporting local companies. Give them the chance to purchase their new mug from you instead of somewhere else!
Besides mugs, there are few things that people love more than novelty t-shirts and other forms of merchandise. If you aren't offering your customers merchandise that shows off your brand, you are already missing out on potential sales. Whether you choose to highlight your snazzy logo or you put on some funny coffee shop quotes, you can work your way into your customers' wardrobes.
Not only is this an opportunity to make more on sales, but it is also great for sharing brand awareness. Let people promote your brand for you while they are out running their weekly errands. It is a great way to build brand recognition so new customers consider stopping by when they see your sign. You can sell shirts, mugs, or even keychains. Make your merchandise fun and people will be lining up to buy it from you.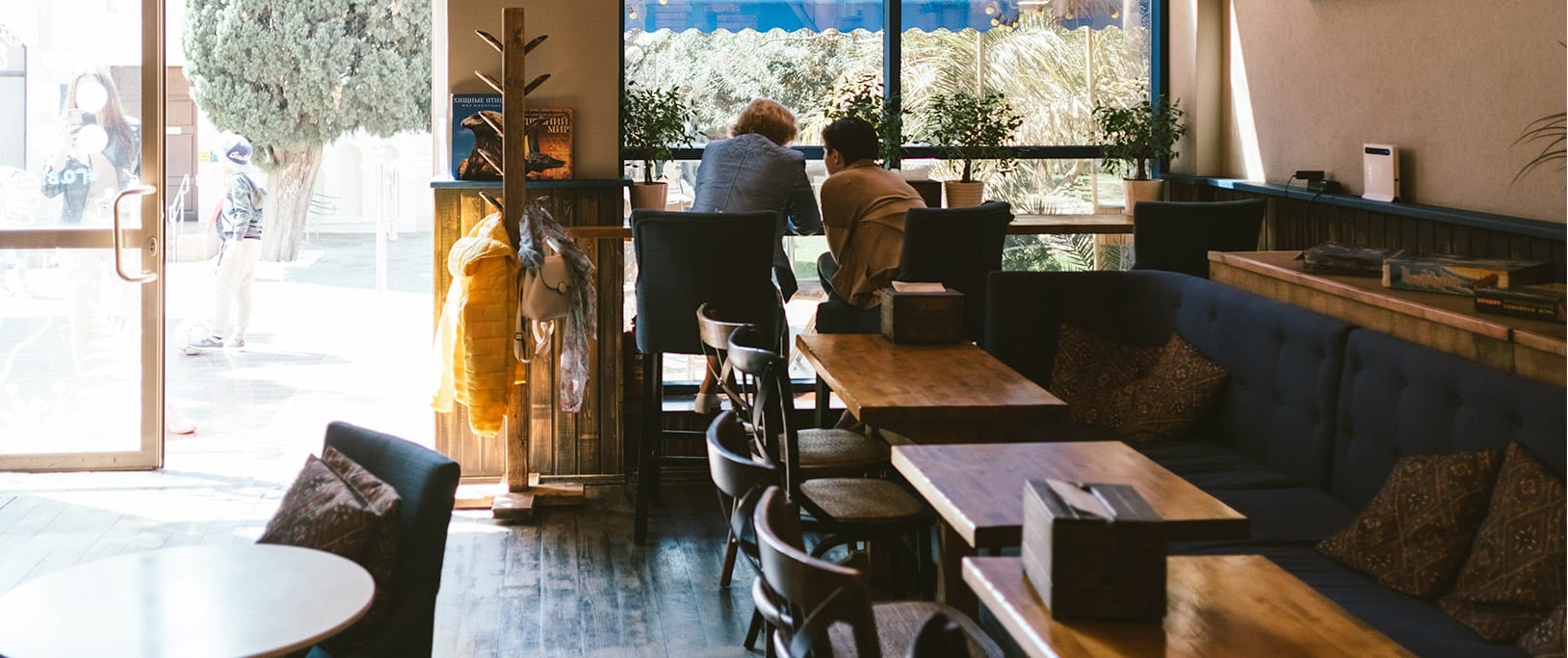 Cafes are considered one of the best places to meet and get work done, which means that the furniture that you choose matters. You don't need to burn your logo into every chair for furniture to be a significant part of branding. Branding is about the overall feel and appearance of your cafe, and furniture plays a huge role in that.
Make sure that you choose consistent furniture options that match your brand. Don't choose cold, hard metal for a cozy cafe. Invest in comfortable and welcoming furniture that will encourage customers to drop by and spend more time.
If you aren't that kind of cafe, don't worry. Now more than ever, a lot of cafes are focusing more on the Grab and Go style, and that is perfectly fine. Cafes that run that kind of establishment might have different furniture needs. It might be more about providing clear lines to help everyone get their coffee as quickly as possible. It might mean skipping out on furniture that is too comfy if you're trying to make sure that everyone gets their chance to stop by. It could be as easy as only outdoor space depending on your location.
In the end, only you can decide what kind of furniture will suit your brand. Avoid aiming for the cheapest options and choose something that works for your customers.
Final Thoughts
Defining your brand should be about creating your very own world all within the walls of your cafe. Take the time to consider how you can present your customers with the right feel and use your available branding options to show it off in style.
Whether you're investing in custom bathroom signs or selling fancy mugs with your cafe's name on them, effective branding is a great way to keep customers coming back for more.