When you walk into The Circuit, it's hard not to feel inspired. With sleek modern furniture and workspaces decorating the hardwood floor of this former gymnasium, the interior has a very unique atmosphere that exudes focus and a spirit of accomplishment. The room still features the traditional markings of a basketball court and even the old scoreboard from when games were a regular occurrence.
However, in this building's friendly confines there is no scorekeeping and there are certainly no losing teams. Serving as both a co-working space and the student center for Chattahoochee Technical College, The Circuit has become a hub for students, entrepreneurs, and people from around the community; a place to work and mingle with one another. At the center of this unique environment is Alma Coffee, an organization hand-picked by The Circuit's founding partners to help foster their community vision.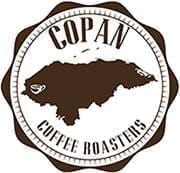 Alma Coffee has a brief history, but the founders' involvement in and dedication to the coffee business goes back five generations. Originally named after the Honduran region in which it was located, Copán Coffee Roasters has a proud tradition of the finest coffee, raised sustainably and sold using best practices of fair market trade. Harry and Leticia Lopez Hutchins, the newest generation of the family, came to realize that the Copán name was not relatable to today's consumer, but the quality of their product and their approach to a sustainable business model would always connect with people. Harry and Leticia ultimately decided to rename the company and accentuate what they felt was important about their brand.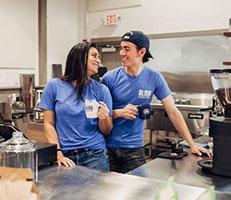 "Customers just weren't getting the same message that we got from our name or logo" explained Harry regarding the decision to rebrand. "But there was no frustration whatsoever. It was really more of an excitement to explore new ideas."
Having already been selected as the coffee vendor to work within The Circuit, Harry and Leticia knew they didn't want their previous branding issues hampering them in their exciting new opportunity. Most importantly, they wanted the rebrand to continue highlighting their passion for the business and why they fell in love with this venture in the first place. They enthusiastically began what would be several months of brainstorming, starting first and foremost with deciding upon a new company name. After lengthy consideration, the team decided upon the name "Alma," which is the Spanish word for "soul."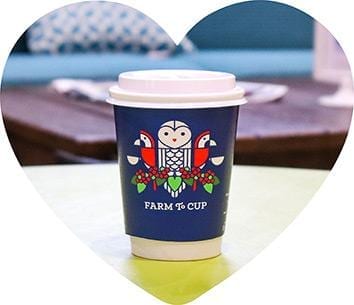 To complete the visual aspect of the new brand, Alma Coffee went to graphic artist Tom Cox, who had previously worked with the city of Woodstock on its recent brand remodeling. With Cox's help, they were able to not only develop an intricate new logo, but also tell a compelling story of their origins and principles. From the boldly emblazoned colors of the flag of Honduras to the barn owl and scarlet macaws representing the company's three founders, Alma's symbolic trademark is heartfelt and meaningful, along with being visually appealing. From there, Alma worked with Your Brand Cafe to create beautiful custom printed 8oz cups for every coffee they serve. They have since expanded their branding to include new bags of coffee grounds, reusable drinkware, and custom printed apparel that they believe will make a unique impression.
"We wanted to do something totally different," said Leticia. "Blue is a color you don't really see on coffee packaging, so we decided to make it our color as a tribute to Honduras and just put it out there. Anything that we touch, we want to feature the logo and that shade of blue. And as people see it more and more, they're going to start to resonate with the Alma Coffee brand."
The new logo and name change have allowed Alma Coffee to combine the best traditions with a brand that strikes a chord with today's customers. And while they are sure to continue turning heads with their coffee, there is far more to this company than what's inside the cup.