For us, one of the most interesting aspects of our Customer Spotlight series is seeing how local businesses can be born from unusual or unexpected circumstances. Sometimes it's as simple as a moment of serendipity, where the right people meet each other and connect over a shared interest.
Take David Pittman and Landon Bonner, for example. A Georgia native and Georgia Southern graduate, David began his professional life in the military, where he became an Army Ranger captain and earned three Bronze Stars with Valor device during two tours of combat duty. Having spent time stationed in Belgium, he helped an American couple open a coffee shop after leaving the military and discovered a true passion for all things coffee while working there.
Over 4,000 miles away in small town West Virginia, Landon Bonner was a student at the University of Charleston and began working part-time as a barista while playing for the football team. Much like David, Landon discovered a passion for both coffee and customer service, which led him to get a job at Land of A Thousand Hills Coffee when he returned home to his native Georgia. While working there, he met David, who just so happened to be in charge of production and quality control at the time.

These two coffee connoisseurs quickly hit it off and after a year of pursuing their own separate ventures, they decided to join forces in order to provide a different kind of experience for coffee drinkers. The result was Peach Coffee Roasters, which opened its flagship location in Johns Creek in 2018. Over the last four years, two more shops have been established in Buckhead and West Midtown.
When asked what makes Peach Coffee Roasters different from others, David quickly deferred to his employees, coworkers, and the overall culture of the business.
"It's our people," Pittman explained. "We really do have a wonderful collection of people that want to take care of our customers. We also have the certification and experience to pick high quality green coffee, not just what someone else tells us is good. Most companies are opinion-based, and younger companies don't have the skillset or knowledge to see coffee from different angles – particularly the customer's perspective."
Part of their unique certification and experience comes from their three Q Graders, two of whom are Pittman and Bonner. Q Graders are licensed experts who score the quality of roasted coffees, holding a similar type of prestige to that of sommeliers in wine culture. Becoming a Q Grader consists of rigorous coursework and sensory testing that relies on advanced knowledge of coffee. These certifications are so prestigious and difficult to attain, in fact, that there are fewer than 5,000 of these licensed experts in the world, making it pretty amazing that three of them work in the same company.
"There are more professional athletes in the United States than there are Q Graders," Pittman explained. "There is an accountability to being a Q Grader, too, because if you misgrade coffee or misuse your credentials, you can lose your license."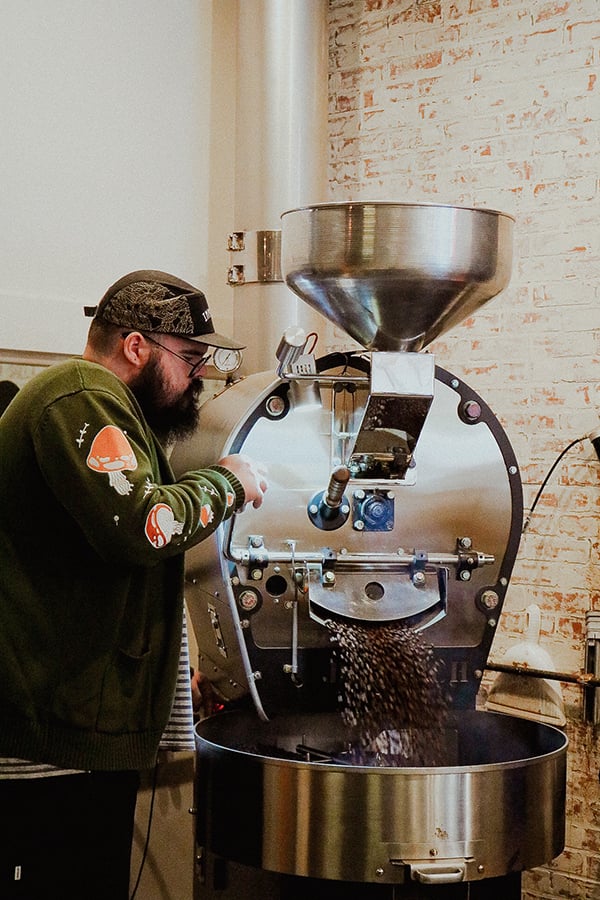 While the people at Peach Coffee Roasters are proud of their rare expertise, they don't lose sight of the fact that their customers are the focal point of the business. When you explore the merchandise available on their website, you'll see that they sell far more than custom printed apparel and coffee roasts. From a wide variety of kettles and electronic scales to milk pitchers and cupping spoons, Peach Coffee Roasters offers everything that even an experienced coffee lover could need to brew in their own home.
"Essentially, we look at brick and mortar differently than our e-commerce," Pittman said. "If you can't come into our cafe, then we offer the gear that we use so that you can enjoy coffee the way we think it should be experienced. Our e-commerce really took off during the early stages of the pandemic, when we saw the trend of people's routines getting interrupted. Home brewing skyrocketed and we caught it very early. We were selling out of coffee grinders so quickly that we began ordering them by the pallet."
Peach Coffee Roasters has plenty to offer in regard to expertise and merchandising, but they're just as focused on giving back to the community. Pittman has taken the core tenet of selfless service from his years of military service and applied it to the company culture. They have an extensive list of community service initiatives under their belt, including the Atlanta Humane Society, Meals On Wheels Atlanta, Chatahoochee Riverkeeper, and the 1% For The Planet program for which Peach Coffee Roasters donates 1% of its revenue towards nonprofits that protect the environment.
So a company with impressive expertise, excellent product offerings, and an emphasis on community service must have had a strong brand identity as the foundation, right? Well, not exactly. For quite a while, the team at Peach Coffee Roasters was unsatisfied with their brand, so they decided to start from scratch with a full rebranding project.
"We had used freelance designers before who definitely had talent, but they had never worked at the higher levels of brand marketing," Pittman explained. "There is a subliminal aspect to branding and unless you have the experience and understanding of the intricacies, you won't hit the mark. We had the coffee right and continue to improve it, but we wanted to leave no doubt regarding our brand."
They knew there was untapped potential within the brand, so they began searching for professionals who could help them discover it. Then, in a Netflix documentary entitled "Abstract: The Art of Design," they discovered a company called Pentagram which specializes in graphic design. The company has offices internationally and prides itself on being the only major design studio where the owners of the business are the creators of the work.
After being hired, Pentagram researched Peach Coffee Roasters and their customer persona ("not who we thought they are," as Pittman explained). Pentagram came to the conclusion that their branding lacked focus and consistency, so they narrowed down the customer persona and built the brand from there. The end result was a Garden & Gun style southern theme brimming with nostalgic regional iconography. For example, the color scheme on their custom coffee cups is derived from old peach crates, while the dog is specifically a pointer breed used in quail hunting and found commonly in Southern paintings and artwork.
While Pentagram's services did not come cheap, everyone at Peach Coffee Roasters was impressed with the results. Furthermore, Pittman also detailed how much he learned about brand marketing from the rebranding experience.

"I used to think it was 80% quality and 20% branding. Now I think it's the other way around," said Pittman. "Quality products and services get you repeat business, but branding gets you recognition. As a young company, branding is the most important thing and branded products play a huge part in that. It's the reason why we use
custom printed cups
from Your Brand Cafe. Sure, having branded cups costs more money, but it's a walking billboard once they leave your shop."
Having just celebrated four years with their annual Peachapalooza event in September, Peach Coffee Roasters looks to continue offering the best in coffee to people throughout the Atlanta area. Visit their website to learn more about this impressive and increasingly popular coffee brand!
Contact us to speak with a customer solutions member