Located ten minutes from North Point Mall in Alpharetta, Georgia, Urban Tea is the perfect outlier in a strip of (mostly) franchises. Sandwiched between a locally-owned juice shop and a WhichWich, Urban Tea stands out from the crowd with their bold signage and inviting aesthetic. Inside, you're guaranteed to be greeted by a cheerful employee while music plays gently in the background and the aroma of over 100 teas floods your senses.
"We have customers who come in, order a pot of tea, and work quietly on their laptops. And then we have other customers who come in and want to bring a group of friends for a Tea Tasting," says store owner Debbie Gonzales.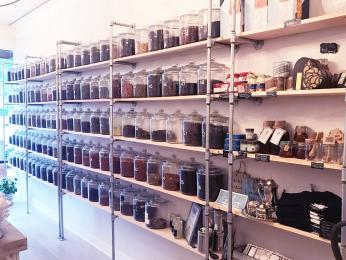 Whether you're looking for tea to-go or a sit-down experience, Urban Tea in Alpharetta is for you. Debbie has made it a priority for her store to serve customers in any way, shape, or form they desire. From quick to-go orders to hours-long bridal or baby showers, Urban Tea can do it all. And with 117 different varieties of tea, you're sure to find one (or ten) you love. Can't decide? Not to worry. Urban Tea's menu lists every ingredient in each and every selection of tea… and if that's not enough, they also offer a Tea Tasting experience for $18.00 that comes with your choice of six teas and a scone served with Devonshire cream and preserves.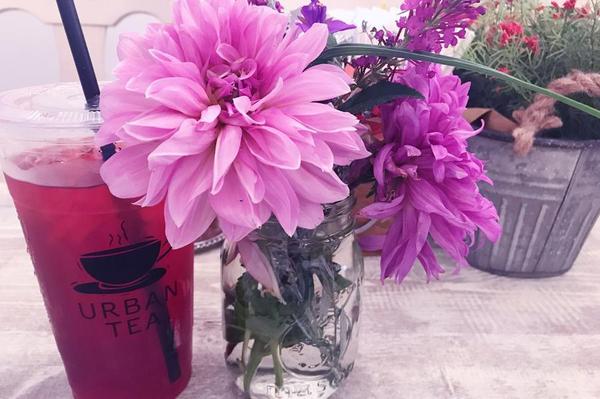 Looking for a little extra something sweet with your tea? The Urban Tea experience comes with your choice of tea, English cheddar cheese with organic honey, little tea desserts, and a scone served with Devonshire cream and preserves… all for a mere $12.50.
Or maybe you're more of a decisive, know-what-you-want kind of person. For $3.75, you can take your hot or iced tea on the road with you or sip it in-store.
"Steeping the tea takes about five minutes, which is nice because I get to spend that five minutes talking to my customer and getting to know them a little better," says Debbie.
If you do decide to take a seat inside the shop, be prepared for some serious heart-eyes. The entire shop is covered in flowers, even the sweetener station which is also adorned with adorable squeeze bottles of honey, agave, and simple syrup, proving that every last inch of space in the shop has been considered. And if the gorgeous chandeliers in the front of the store don't sprout a bit of envy in you, the rustic farmhouse chandelier located over the tea table will. The tea table itself is covered in flowers and silverware caddies and is roomy enough for multiple guests but small enough to encourage conversation between guests who would have otherwise remained strangers.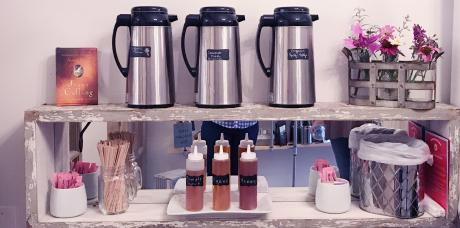 The front counter is decked with homemade soaps filled with tea leaves and other natural, organic ingredients, which sit alongside a bowl of similarly created bath bombs and chapsticks. And in the front corner of the store are two bookshelves packed with other tea-related products like strainers, mugs, and tea sets that have been discovered and refinished by Debbie before she puts them up for sale.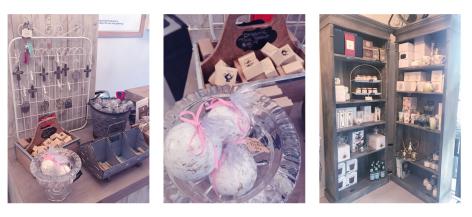 As a native Georgia Peach, I have to say it warms my heart to find Your Brand Cafe clients who are doing so well and are giving such great service to our local community. Personally, I'm in love with the idea of encouraging customers to talk to one another while they sip their tea. In today's world of chaos and social-media overload, Urban Tea is a quaint little haven for those of us who still appreciate face-to-face time with our friends, neighbors, and even strangers.
And if you ever find yourself in Alpharetta with a hankering for tea, make sure to stop by Urban Tea. You won't be disappointed. I pinky-swear.
Happy Tea-Times!

---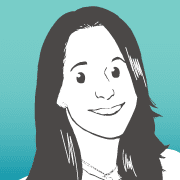 Ashley Arp is a content creator at Your Brand Café. After four years in the lovely mountain town of Dahlonega, Georgia, she returned home with two degrees: her Associate of Arts degree in Studio Art with a concentration in mixed media as well as her Bachelor of Science in Art Marketing. When she's not working or traveling, you'll probably find Ashley drinking too much coffee and watching 24-hour marathons of Law & Order: SVU.