Valentine's Day is a popular holiday most associated with love, self-love, and romance. Businesses find it a prime opportunity to market products related to the so-called day of romance.
People during the lead-up to Valentine's Day and after are more inclined to purchase gifts, flowers, and other romantic items for their loved ones. Thus, it is an excellent time for businesses to increase sales. Additionally, Valentine's Day is often celebrated with meals out at restaurants, which, if positioned correctly, businesses in the restaurant industry can do roaring sales. Though the keyword here is "positioned correctly", unfortunately, many companies get it wrong!
Today, with Americans expected to spend over $23.9 billion according to the National Retail Federation, getting it wrong isn't an option for your business. However, not every Valentine's Day idea may be for your eCommerce business, nor does it work for every product. The key is finding what works for you so that your business is ready when Valentine's Day spending occurs.
If you are strolling to find the best way to position your business this Valentine's Day, then these handful of Valentine's Day Marketing Ideas should help get you started. In fact, we urge you to customize these Valentine's Day marketing tips the best you can to suit the needs of your business. There are tons of ways to customize, like creating Valentine's Day designs for your restaurant or coffee shop.
Create A V-Day Social Media Campaign
If your business isn't leveraging the power of social media to create an effective Valentine's Day Campaign, you need to plug that marketing void right now.
The holiday is associated with love and romance, with a lot of it being expressed on social media. Plus, social media websites or platforms, as they like being called, know if their members are married, engaged, in a relationship, or single. As a business owner, you can leverage this information to your advantage using the following tips:
Identify your target audience on social media platforms
The first step in creating a successful social media campaign is determining whom you want to reach and why. Knowing why you want to target them will make it easier to tailor your messaging and content to resonate with them. For example, if your target audience is young couples and you run a travel agency, you can use images and descriptions of romantic getaways with complimentary gifts.
Create eye-catching visuals
Visuals are a powerful social media marketing tool and are especially important for Valentine's Day-themed marketing campaigns. Use high-quality images and videos of your custom cups and drink sleeves to grab attention in a way that makes it easier to convey your message. While pictures are a good start, we'd recommend adding short-form video to the mix.
Use hashtags
Hashtags are a great way to reach a wider audience and make it easier for people to find your content. Use relevant hashtags such as #ValentinesDay #Love #GiftIdeas to help your campaign reach a wider audience. This is especially important if you run the campaign on social platforms like Twitter and Instagram.
Use Influencer marketing to bump Valentine's Day sales
Partner with influencers relevant to your target audience. Influencer marketing is a great way to increase your brand's visibility and target your audience in a way that isn't like advertising to them. When an influencer recommends something like how to celebrate Valentine's Day at your restaurant, it isn't seen as advertising but instead as a friend recommending something to another friend, and therein is the power of influencer marketing.
Use the power of storytelling
A compelling story around your campaign helps create that emotional connection with your audience. For instance, it can be the story of high school sweethearts now in their 80s exchanging gifts or perhaps going on a romantic cruise or something similar, depending on your business.
Measure and analyze
Track the performance of your campaign using metrics like reach, engagement, and conversions to understand what's working. We also recommend creating multiple campaigns for every target audience you identify and then tracking each campaign closely. If needed, jump in to optimize.
Run A V-Day Sale Offering Discounts and Specials
Out of all the Valentine's Day marketing tips I see out there, this is the most common one, yet all the advice is dated. Running a special or discount is old school. It also means you'll be doing what everyone else in your niche is, and that's no way to corner the market this Valentine's Day.
I'm not suggesting merely offering a 10% or even 50% discount or a 'buy one get one free' type special because it does nothing for your loyal customers. As I said, all of that's old school, and most people expect to see these types of things.
We've experienced great success by customizing the discount for every customer. Since every customer is different, their needs vary, and so should the discount.
Take, for instance, if you're running a gift store. You have the option of a flat 50% discount on everything. But you can also offer anywhere from a 10% discount to a 100% discount, yet only if the buyer qualifies for it. So, a couple married for 30 years would be eligible for, let's say, a 100% discount on a product they want, but only if they buy a complementary product. So, you're not just giving them the perfect gift but making a sale too.
This approach has two benefits; the first is creating a memorable in-store experience. The second is that you're rewarding people for loving each other, which is the whole essence of Valentine's Day.
This same idea can be tailored to an online campaign for a couple that, for instance, shares their most memorable moments of being together, getting a higher discount, compared to a person that leaves a comment on your social media post.
I've also seen some online stores running the online equivalent of the Wheel of Fortune. Again, this is a great way to keep people engaged beyond just offering a discount.
Partner With Other Local Businesses – Cross Promotion
Cross-promotion is a marketing strategy where two or more businesses collaborate to promote each other's products or services. In our opinion, it is one of the best Valentine's Day marketing ideas, and yet it isn't as widely discussed as it should be.
Here is how to use cross-promotion for marketing your products or services for Valentine's Day:
You start by identifying businesses selling products or offering services that target a similar audience. For example, if you own a flower shop, you may want to partner with a jewelry store or a chocolate shop. If you own a bakery, perhaps you partner with the cafe down the street to create Valentine's Day buzz for both businesses.
Reach out to businesses to propose a cross-promotion partnership as part of celebrating Valentine's Day. You will want to explain how the partnership will benefit both parties. Explain to the other party how it will help them and a little less about your business.
Develop a joint marketing campaign highlighting the products or services that complement both businesses. For example, you can create a Valentine's Day gift package with flowers, chocolates, and jewelry.
Then use social media (as mentioned earlier) and email marketing (both parties' email lists) to promote the joint campaign. Encourage your customers to share the promotion with their friends and family. Maybe incentivize them to share the promotion on their social media.

By working with other businesses, you can reach new customers and thus increase your visibility. Build a relationship so that this isn't a one-off thing because this can branch out into other promotion ideas for upcoming events.
You will also want to propose this V-day marketing idea to other businesses, and there is no harm in working with multiple businesses.
Inject Scarcity Into Your Valentine's Day Marketing Campaign
Now, this is marketing 101 but with a little bit of a Valentine's Day Twist. Combining scarcity in your copy with a countdown timer makes it possible to push visitors over the edge and make a purchase. But let's do one better!
While the timer and scarcity copy is all well and good, if you use it too much, people eventually figure out there is no scarcity. As you might imagine most people don't like being conned even if they are gift shopping.
Since Valentine's Day specials aren't your only offering for the year, you need to plan this carefully.
Since Valentine's Day is on the 14th, you can create scarcity by stating that the offer is valid only till the 14th. After the 14th, this offer will not be valid and nor will it be available.
If your item(s) need to be physically delivered, like a bouquet or a box of chocolates, then make sure that the final day to place an order is before the 14th so that the items can be delivered on time. That is unless you run a local business that can deliver within 30 minutes of someone placing an order and you're happy to spend Valentine's Day fulfilling orders.
You will want to create this type of urgency starting with the first email you send, say, two weeks before V-Day with the subject line "Limited V-day Sale Starts Today." Then, the second email a week before V-Day emphasizes that the prospect does not have much time left, and that's where the timer can come into play on your website.
Also, with physical items, you can emphasize that there is a limited quantity, so it's first come, first serve. Each time there is a purchase, the quantity of that item displayed on your eCommerce website is one less, for instance. That serves as a subtle signal to prospective buyers that the item is selling fast and will only be available for a short time.
Take Advantage of Last-Minute Valentine's Day Gifts Shopping Frenzies
Let's face it, the average male – especially one that's married – may get so caught up with work that they forget how far away the 14th of February is until you remind them. Reminding them that V-day is right around the corner means it's possible to capitalize on their last-minute need to buy! That's where this Valentine's Day Marketing idea is so immensely powerful.
The chronic procrastinator, male or female, needs last-minute and yet great gift ideas, and they need those gifts pronto! Fortunately, you are here to help them with a list of all the gifts these last-minute shoppers can buy, why they matter and a link to your online store from where they can buy them.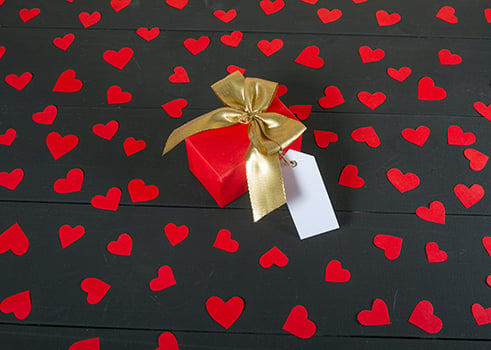 Couple the above with last-minute delivery, and you'll be at least a few dozen sales ahead of the competition. Oh and if possible publish a blog post with these ideas too which is then shared on social media.
If you aren't doing this, start sending out a curated list of all the last-minute products your prospect can buy four days ahead of Valentine's Day.
You can also run a similar "Last Minute" campaign on social media.
Sweeten The Deal with A Limited Edition Free Gift
Most Valentine's Day marketing tips will recommend that you sell a Limited Edition of any product. After all, it's limited, meaning it's scarce and thus commands a higher price.
However, there is more than one way to swing the power of a Limited Edition item. One way to do this would be to offer it to people who buy things from you that amount to a certain grand total. The other would be to enter buyers into a lottery. So, the more they buy, the higher their odds of getting this Limited Edition item.
For this to work, your Limited Edition should be worth it. We suggest dedicating a campaign, both online and offline touting this product. This will create desire, which then turns to sales because everyone wants to win.
Though I admit that out of all the Valentine's Day marketing ideas in this article, perhaps this one isn't for everyone. However, it is an idea you can run with and customize based on the nature of your business.
Final Word
There you have it, folks, the best Valentine's Day marketing ideas out there, which we think you can't go wrong with. The only other thing we'd add is to start planning early, at least a month ahead of Valentine's Day.