When customers visit your coffee shop, what do they do while they wait for their almond milk latte? Do they pull out their phones and tune out? Or do they browse the "to go" mug that is perfectly sized for their cup holder, then chuckle at the cleverly named flavor on the branded specialty bag of coffee on the shelf?
Stocking even a small collection of personalized merch might be the best thing you can do for your business.
Selling merchandise in your shop is not only a great way to bring in extra revenue, it is an excellent way to get free advertisement. Word of mouth advertising has always been a powerful form of advertising, especially online. Good news – and brands – spread like wildfire in the world of social media.
74% of consumers
identify word of mouth as a key influencer in their purchasing decisions.
When someone sees someone wearing a sweater with your logo on it, it can spark a conversation that can result in a new customer. "You should try their new macadamia nut latte, it's to die for!"
In fact, brand recognition, brand loyalty, and growing your following will most likely outweigh the actual revenue you see from
selling merch
. Soon your brand will be advertised in places you never thought it would be, like when a customer wears your hat on a vacation.
Now dust off those shelves and make some space near the cash register, because your shop merch is about to take over!
1. Build a Strong Foundation
If you don't already have one, have an eye-catching logo designed for your business. A logo is the first thing that customers associate with your brand, and yours should be simple and easy to remember! Try adding the name of your city or particular area onto your design, too.
People are proud of where they're from and love merch that helps them represent it!
Death Wish Coffee has built a well-rounded brand
and sought after merch. Their logo is easily worn on any products, whether it's apparel, mugs, or even socks! It can be seen on their viral memes all over
social media
too.
What is a brand culture?
Simply put, it's how your brand makes your customers feel. It's the first thing that comes to their mind when they hear the name of your shop. So think about what comes to mind when people hear the name of your own shop. It could be cool, hip, cozy, playful or whatever you'd like!
In the digital age that we live in, brand culture becomes incredibly valuable. Brands are more transparent than ever before, with information being shared at lightning-fast speed. Strong connections and loyalty are formed with customers through social media. If your brand aligns its customer experience, products, and values, you will soon find yourself with a loyal customer following.
As the online presence of brands grows, so do the brand "fan clubs". To your customers, your merch is a happy reminder of the experience they have every time they go to your coffee shop.

3. Build a Customer Profile
If your shop is already well established, this part will be simple for you. If you are just starting your business, take some time to think about the atmosphere of your shop, your core values, and projected demographics such as customer attributes and interests. Once you have answered these questions and built a strong customer profile, it will be easy to build a line of merch that will fly off the shelves.
Here's a few questions to get you started creating your customer profile:
Where is your shop located? Is it near a college? Near a beach?
What does your customer drive?
How do they dress?
What are their hobbies?
What time of day do they visit your shop?
Do they have kids?
Now that you have your customer profile and your brand culture outlined, it's time to decide which products you want to carry in your shop, and which products you will avoid. For example, if your customer is more likely to wear a beanie, you won't place a big order for trucker hats.
A line of merch that is developed with these things in mind is sure to delight your customers! Another good thing to remember is that it is more valuable to have fewer items that appeal to your customer profile rather than a wide range of items that don't really connect with your customers at all.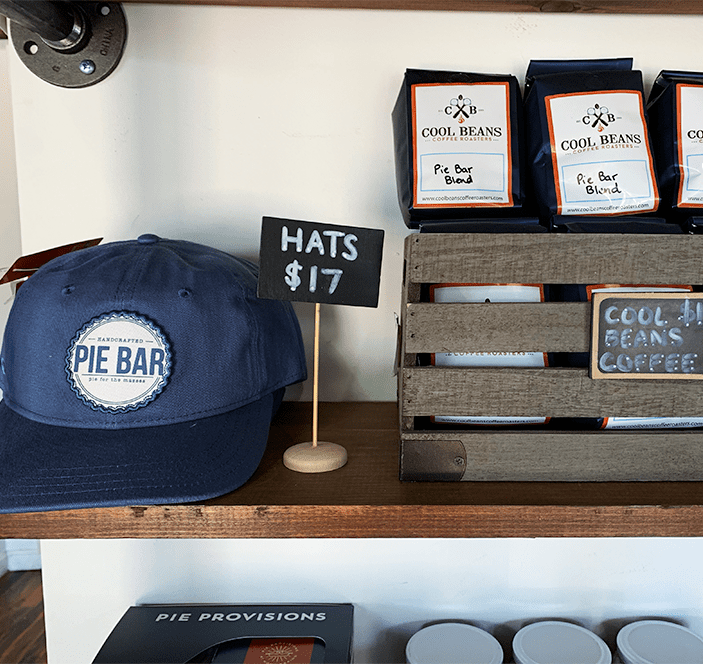 Here's a few ideas to get you started:
You could also add some lower price point items like bracelets, decals, belts, and bandanas. Try switching up colors or designs once in a while to keep the customers wanting more.
Spending the extra time and money to make sure the items are high quality is invaluable. The difference between an ultra low-cost mug and a thicker walled, durable mug is easily felt, and the higher quality one is appreciated more.
Additional Thoughts Before Starting
When placing your merch in your store, location matters! Place the smaller, less expensive items close to the register. Since their wallets are already out, customers are more likely to add a few small items in with their purchase.
You could put larger items that require more consideration at the other end of the counter, where customers are waiting for their order. Use your merch for even more exposure with fun giveaways and promos. Gift baskets full of branded items always create lots of excitement when they are offered as a draw.
Always remember that building a business is about so much more than the main product you are selling. A successful business is built on blending together all of the things we have covered in this article in order to create an exceptional experience for your customers.