One of the most exciting aspects of having your own franchise is letting your creativity run wild. You have your concept theme down and you better understand your target customers. However, it's easy to get overwhelmed by trying to do a little bit of everything while establishing your design.
In our newest blog entry, we're going to help you break down the aspects of design into more manageable pieces. Once you sum up your formula for success, you'll be designing a café that promotes your brand to its full potential.
Define Your Cafe's Personality
Before moving on to designing your café, you need to create a personal signature for your brand. For example, people around the world are familiar with the overall theme and colors of companies like Dunkin and Starbucks. Before walking in any franchised store, you can even envision what they look like, too. So how are you going to define your cafe's personality?
It's about executing on your vision. If you say
your brand
is going to go "above and beyond" for the customer, be consistent with that message. If your goal is to be original, come up with decorations that people have never seen before. Maybe you want your brand to be known for helping the community. In that case, participate in as many charitable events as you can and keep giving back!
Use your cafe space by coming up with a detailed floor plan with a concept behind it. It sets the tone for your customers' experience and helps you stand out from your competition. It should be mentioned that getting maximum use out of your space doesn't mean cramming as much furniture into your cafe as possible. Rather, it's about effective planning so that every
part of your cafe relates to your brand.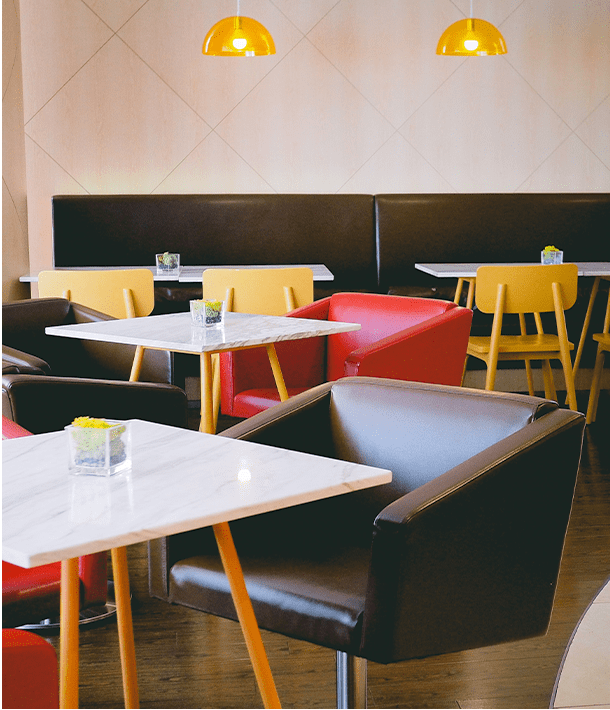 For instance, think about your furniture shape. A circular table encourages gathering and socialization while a single arm chair might point towards relaxation. You wouldn't want to put an arm chair right in the middle. It's better to put the chair by a window near the corner where somebody could concentrate.
Additionally, it's a good idea to sit in every seat on the floor. Think about any possible issue that a customer could have in each seat. As you look around, imagine where the people are coming and going as they order. How does your spacing look? Are people bottlenecking at a certain point? Is there crowding too close to where people are sitting? Getting maximum use out of your space means you have a balance where everybody is comfortable.
You can make additions such as distinctive design elements and stand-out pieces that reflect the theme of your restaurant. They add mood, elegance, and help your business stand out a little more. Here's three design choices you could make that have maximum impact towards your brand identity.
Music Theme
Think about your ideal customer and their needs. Do they prefer an energetic atmosphere or do they want to relax and concentrate on work? Your music could play a large factor for design. Soft, low-fi music is good for a quieter cafe where people want to work in peace. You don't usually walk into a cafe and hear loud heavy-metal music playing, right? The music sets the whole tone for your business.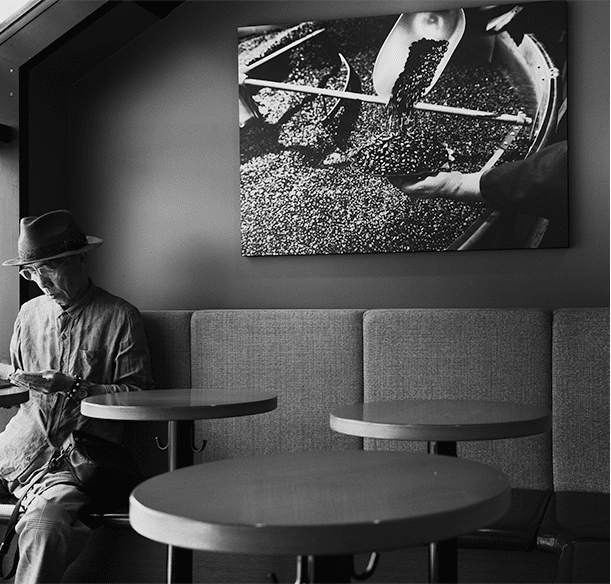 Elegant & Comfortable Furniture
Making your sitting area elegant and comfortable does have an impact on your brand. Being comfortable is something that customers feel on an emotional level. It promotes relaxation and you can physically feel the softness of furniture. It's fitting for people in a business meeting or even friends gathering for a coffee date.
Think about small couches, ottomans, and cushioned chairs. It's a cozy feeling hanging out for longer periods of time. You can also consider high-chairs and bar stools to mix up your design. It's all a part of being elegant, yet unique.
Effective Lighting
How can lighting have maximum impact on your design? By setting the mood just like music or furniture can! Bright lights signal an upbeat, energetic environment. On the other hand, if you opt for dim lighting, it creates a relaxing atmosphere. Just make sure it's still light enough to see the menu and food items. Dim lighting suits a cafe that wants to create a calm setting.
You can also get sleek looking light fixtures that focus on your brand identity. Pendant lighting is fantastic and enhances the food display. Check out wall lighting ideas that could be placed near seating areas so that people can still see while they work. By using lights to your advantage, you can really make an impactful statement about your cafe design.
Learn from the Competition
Keep on learning
no matter the popularity of your brand
. Your competitors provide valuable information about trends in the market. If you really want maximum impact in your design, there are more than a few variables you can study. Check out your competitor pricing and see how different it is from yours. Are they overpriced? Are they offering lots of promotions and deals? See if there's any reason to change what you're doing.
Look at the customer demographic of your competitors as well. What kind of customers are they targeting? If you understand what kind of customers are attracted to cafes in your area, your design won't be nearly as challenging.
Let's say you notice that your competitor cafe targets remote workers. You notice lots of people setting up laptops and devices inside for long periods of time. This gives you a new idea for investing in comfy furniture with lots of outlets to accommodate this demographic.

You can always recognize top brands by their design. Whether it's a logo, colors, or decorations inside, your design has a large impact on the recognition of your brand. Once you find your unique design, you have an awesome opportunity to elevate your franchise into a strong brand that will outlast the competition.